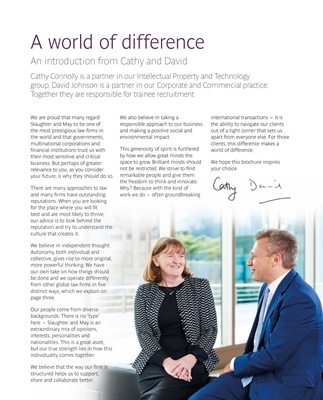 We also believe in taking a
responsible approach to our business
and making a positive social and
environmental impact.
This generosity of spirit is furthered
by how we allow great minds the
space to grow. Brilliant minds should
not be restricted. We strive to find
remarkable people and give them
the freedom to think and innovate.
Why? Because with the kind of
work we do - often groundbreaking
international transactions - it is
the ability to navigate our clients
out of a tight corner that sets us
apart from everyone else. For those
clients, this difference makes a
world of difference.
We hope this brochure inspires
your choice.
Cathy Connolly is a partner in our Intellectual Property and Technology
group. David Johnson is a partner in our Corporate and Commercial practice.
Together they are responsible for trainee recruitment.
A world of difference
An introduction from Cathy and David
We are proud that many regard
Slaughter and May to be one of
the most prestigious law firms in
the world and that governments,
multinational corporations and
financial institutions trust us with
their most sensitive and critical
business. But perhaps of greater
relevance to you, as you consider
your future, is why they should do so.
There are many approaches to law
and many firms have outstanding
reputations. When you are looking
for the place where you will fit
best and are most likely to thrive,
our advice is to look behind the
reputation and try to understand the
culture that creates it.
We believe in independent thought.
Autonomy, both individual and
collective, gives rise to more original,
more powerful thinking. We have
our own take on how things should
be done and we operate differently
from other global law firms in five
distinct ways, which we explain on
page three.
Our people come from diverse
backgrounds. There is no 'type'
here - Slaughter and May is an
extraordinary mix of opinions,
interests, personalities and
nationalities. This is a great asset,
but our true strength lies in how this
individuality comes together.
We believe that the way our firm is
structured helps us to support,
share and collaborate better.
1
slaughterandmay.com/careers