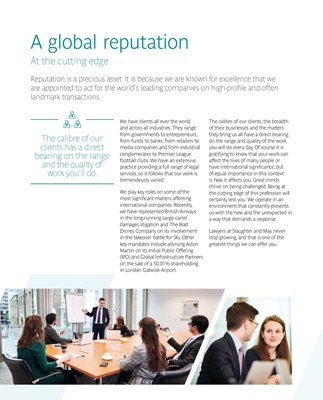 Reputation is a precious asset. It is because we are known for excellence that we
are appointed to act for the world's leading companies on high-profile and often
landmark transactions.
We have clients all over the world
and across all industries. They range
from governments to entrepreneurs,
from funds to banks, from retailers to
media companies and from industrial
conglomerates to Premier League
football clubs. We have an extensive
practice providing a full range of legal
services, so it follows that our work is
tremendously varied.
We play key roles on some of the
most significant matters affecting
international companies. Recently,
we have represented British Airways
in the long-running cargo cartel
damages litigation and The Walt
Disney Company on its involvement
in the takeover battle for Sky. Other
key mandates include advising Aston
Martin on its Initial Public Offering
(IPO) and Global Infrastructure Partners
on the sale of a 50.01% shareholding
in London Gatwick Airport.
The calibre of our clients, the breadth
of their businesses and the matters
they bring us all have a direct bearing
on the range and quality of the work
you will do every day. Of course it is
gratifying to know that your work can
affect the lives of many people or
have international significance, but
of equal importance in this context
is how it affects you. Great minds
thrive on being challenged. Being at
the cutting edge of this profession will
certainly test you. We operate in an
environment that constantly presents
us with the new and the unexpected in
a way that demands a response.
Lawyers at Slaughter and May never
stop growing, and that is one of the
greatest things we can offer you.
At the cutting edge
A global reputation
The calibre of our
clients has a direct
bearing on the range
and the quality of
work you'll do.
6
slaughterandmay.com/careers