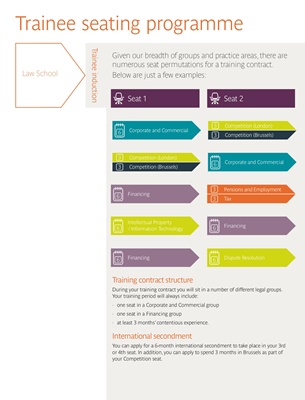 Qualification
During your final seat we will begin
discussions with you about your
preferences on qualification.
We consistently retain a high
percentage of our trainees, with
most qualifying into their preferred
practice area.
Our HR team will fully support you
during your transition to becoming
a newly qualified solicitor.
Specialist groups
You can choose to spend time in our specialist groups. Some of our specialist groups
offer a 3-month option enabling you to spend time in two specialist groups within
one 6-month seat.
We have seven specialist groups
Competition (6-month seat, which can include 3 months in our Brussels office)
Dispute Resolution (3 or 6-month seat)
Financial Regulation (6-month seat)
Intellectual Property/Information Technology (6-month seat)
Pensions and Employment (3 or 6-month seat)
Real Estate (3 or 6-month seat)
Tax (3-month seat)
Key
Corporate and Commercial
Financing
Specialist groups
Specialist groups
- contentious experience
International secondment
Corporate and Commercial
6
Financing
6 International secondment
6
Financing
6
Qualification
Newly
qualified
solicitor
(associate)
B
slaughterandmay.com/careers