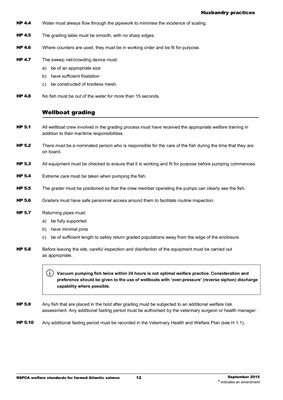 Husbandry practices
RSPCA welfare standards for farmed Atlantic salmon 12 September 2015
* indicates an amendment
HP 4.4 Water must always flow through the pipework to minimise the incidence of scaling.
HP 4.5 The grading table must be smooth, with no sharp edges.
HP 4.6 Where counters are used, they must be in working order and be fit for purpose.
HP 4.7 The sweep net/crowding device must:
a) be of an appropriate size
b) have sufficient floatation
c) be constructed of knotless mesh.
HP 4.8 No fish must be out of the water for more than 15 seconds.
Wellboat grading
HP 5.1 All wellboat crew involved in the grading process must have received the appropriate welfare training in
addition to their maritime responsibilities.
HP 5.2 There must be a nominated person who is responsible for the care of the fish during the time that they are
on board.
HP 5.3 All equipment must be checked to ensure that it is working and fit for purpose before pumping commences.
HP 5.4 Extreme care must be taken when pumping the fish.
HP 5.5 The grader must be positioned so that the crew member operating the pumps can clearly see the fish.
HP 5.6 Graders must have safe personnel access around them to facilitate routine inspection.
HP 5.7 Returning pipes must:
a) be fully supported
b) have minimal joins
c) be of sufficient length to safely return graded populations away from the edge of the enclosure.
HP 5.8 Before leaving the site, careful inspection and disinfection of the equipment must be carried out
as appropriate.
Vacuum pumping fish twice within 24 hours is not optimal welfare practice. Consideration and
preference should be given to the use of wellboats with 'over-pressure' (reverse siphon) discharge
capability where possible.
HP 5.9 Any fish that are placed in the hold after grading must be subjected to an additional welfare risk
assessment. Any additional fasting period must be authorised by the veterinary surgeon or health manager.
HP 5.10 Any additional fasting period must be recorded in the Veterinary Health and Welfare Plan (see H 1.1).
i