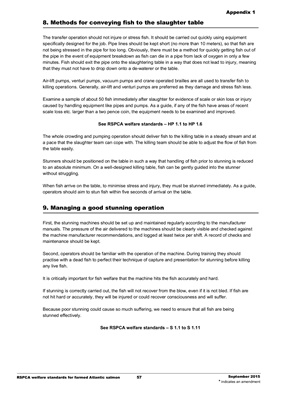 Appendix 1
RSPCA welfare standards for farmed Atlantic salmon 57 September 2015
* indicates an amendment
8. Methods for conveying fish to the slaughter table
The transfer operation should not injure or stress fish. It should be carried out quickly using equipment
specifically designed for the job. Pipe lines should be kept short (no more than 10 meters), so that fish are
not being stressed in the pipe for too long. Obviously, there must be a method for quickly getting fish out of
the pipe in the event of equipment breakdown as fish can die in a pipe from lack of oxygen in only a few
minutes. Fish should exit the pipe onto the slaughtering table in a way that does not lead to injury, meaning
that they must not have to drop down onto a de-waterer or the table.
Air-lift pumps, venturi pumps, vacuum pumps and crane operated brailles are all used to transfer fish to
killing operations. Generally, air-lift and venturi pumps are preferred as they damage and stress fish less.
Examine a sample of about 50 fish immediately after slaughter for evidence of scale or skin loss or injury
caused by handling equipment like pipes and pumps. As a guide, if any of the fish have areas of recent
scale loss etc. larger than a two pence coin, the equipment needs to be examined and improved.
See RSPCA welfare standards - HP 1.1 to HP 1.6
The whole crowding and pumping operation should deliver fish to the killing table in a steady stream and at
a pace that the slaughter team can cope with. The killing team should be able to adjust the flow of fish from
the table easily.
Stunners should be positioned on the table in such a way that handling of fish prior to stunning is reduced
to an absolute minimum. On a well-designed killing table, fish can be gently guided into the stunner
without struggling.
When fish arrive on the table, to minimise stress and injury, they must be stunned immediately. As a guide,
operators should aim to stun fish within five seconds of arrival on the table.
9. Managing a good stunning operation
First, the stunning machines should be set up and maintained regularly according to the manufacturer
manuals. The pressure of the air delivered to the machines should be clearly visible and checked against
the machine manufacturer recommendations, and logged at least twice per shift. A record of checks and
maintenance should be kept.
Second, operators should be familiar with the operation of the machine. During training they should
practise with a dead fish to perfect their technique of capture and presentation for stunning before killing
any live fish.
It is critically important for fish welfare that the machine hits the fish accurately and hard.
If stunning is correctly carried out, the fish will not recover from the blow, even if it is not bled. If fish are
not hit hard or accurately, they will be injured or could recover consciousness and will suffer.
Because poor stunning could cause so much suffering, we need to ensure that all fish are being
stunned effectively.
See RSPCA welfare standards - S 1.1 to S 1.11