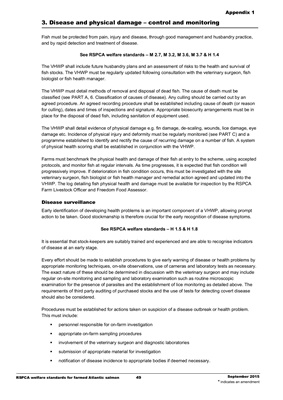 Appendix 1
RSPCA welfare standards for farmed Atlantic salmon 49 September 2015
* indicates an amendment
3. Disease and physical damage - control and monitoring
Fish must be protected from pain, injury and disease, through good management and husbandry practice,
and by rapid detection and treatment of disease.
See RSPCA welfare standards - M 2.7, M 3.2, M 3.6, M 3.7 & H 1.4
The VHWP shall include future husbandry plans and an assessment of risks to the health and survival of
fish stocks. The VHWP must be regularly updated following consultation with the veterinary surgeon, fish
biologist or fish health manager.
The VHWP must detail methods of removal and disposal of dead fish. The cause of death must be
classified (see PART A, 6. Classification of causes of disease). Any culling should be carried out by an
agreed procedure. An agreed recording procedure shall be established including cause of death (or reason
for culling), dates and times of inspections and signature. Appropriate biosecurity arrangements must be in
place for the disposal of dead fish, including sanitation of equipment used.
The VHWP shall detail evidence of physical damage e.g. fin damage, de-scaling, wounds, lice damage, eye
damage etc. Incidence of physical injury and deformity must be regularly monitored (see PART C) and a
programme established to identify and rectify the cause of recurring damage on a number of fish. A system
of physical health scoring shall be established in conjunction with the VHWP.
Farms must benchmark the physical health and damage of their fish at entry to the scheme, using accepted
protocols, and monitor fish at regular intervals. As time progresses, it is expected that fish condition will
progressively improve. If deterioration in fish condition occurs, this must be investigated with the site
veterinary surgeon, fish biologist or fish health manager and remedial action agreed and updated into the
VHWP. The log detailing fish physical health and damage must be available for inspection by the RSPCA
Farm Livestock Officer and Freedom Food Assessor.
Disease surveillance
Early identification of developing health problems is an important component of a VHWP, allowing prompt
action to be taken. Good stockmanship is therefore crucial for the early recognition of disease symptoms.
See RSPCA welfare standards - H 1.5 & H 1.8
It is essential that stock-keepers are suitably trained and experienced and are able to recognise indicators
of disease at an early stage.
Every effort should be made to establish procedures to give early warning of disease or health problems by
appropriate monitoring techniques, on-site observations, use of cameras and laboratory tests as necessary.
The exact nature of these should be determined in discussion with the veterinary surgeon and may include
regular on-site monitoring and sampling and laboratory examination such as routine microscopic
examination for the presence of parasites and the establishment of lice monitoring as detailed above. The
requirements of third party auditing of purchased stocks and the use of tests for detecting covert disease
should also be considered.
Procedures must be established for actions taken on suspicion of a disease outbreak or health problem.
This must include:
 personnel responsible for on-farm investigation
 appropriate on-farm sampling procedures
 involvement of the veterinary surgeon and diagnostic laboratories
 submission of appropriate material for investigation
 notification of disease incidence to appropriate bodies if deemed necessary.