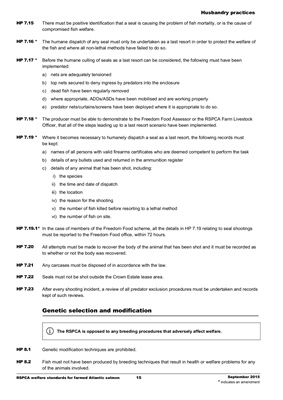 Husbandry practices
RSPCA welfare standards for farmed Atlantic salmon 15 September 2015
* indicates an amendment
HP 7.15 There must be positive identification that a seal is causing the problem of fish mortality, or is the cause of
compromised fish welfare.
HP 7.16 * The humane dispatch of any seal must only be undertaken as a last resort in order to protect the welfare of
the fish and where all non-lethal methods have failed to do so.
HP 7.17 * Before the humane culling of seals as a last resort can be considered, the following must have been
implemented:
a) nets are adequately tensioned
b) top nets secured to deny ingress by predators into the enclosure
c) dead fish have been regularly removed
d) where appropriate, ADDs/ASDs have been mobilised and are working properly
e) predator nets/curtains/screens have been deployed where it is appropriate to do so.
HP 7.18 * The producer must be able to demonstrate to the Freedom Food Assessor or the RSPCA Farm Livestock
Officer, that all of the steps leading up to a last resort scenario have been implemented.
HP 7.19 * Where it becomes necessary to humanely dispatch a seal as a last resort, the following records must
be kept:
a) names of all persons with valid firearms certificates who are deemed competent to perform the task
b) details of any bullets used and returned in the ammunition register
c) details of any animal that has been shot, including:
i) the species
ii) the time and date of dispatch
iii) the location
iv) the reason for the shooting
v) the number of fish killed before resorting to a lethal method
vi) the number of fish on site.
HP 7.19.1* In the case of members of the Freedom Food scheme, all the details in HP 7.19 relating to seal shootings
must be reported to the Freedom Food office, within 72 hours.
HP 7.20 All attempts must be made to recover the body of the animal that has been shot and it must be recorded as
to whether or not the body was recovered.
HP 7.21 Any carcases must be disposed of in accordance with the law.
HP 7.22 Seals must not be shot outside the Crown Estate lease area.
HP 7.23 After every shooting incident, a review of all predator exclusion procedures must be undertaken and records
kept of such reviews.
Genetic selection and modification
The RSPCA is opposed to any breeding procedures that adversely affect welfare.
HP 8.1 Genetic modification techniques are prohibited.
HP 8.2 Fish must not have been produced by breeding techniques that result in health or welfare problems for any
of the animals involved.
i