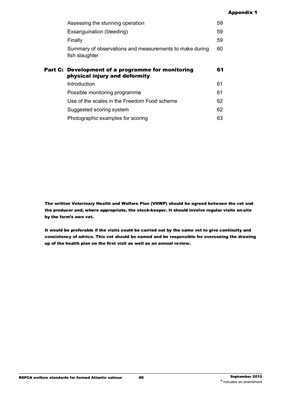 Appendix 1
RSPCA welfare standards for farmed Atlantic salmon 46 September 2015
* indicates an amendment
Assessing the stunning operation
Exsanguination (bleeding)
Finally
Summary of observations and measurements to make during
fish slaughter
59
59
59
60
Part C: Development of a programme for monitoring
physical injury and deformity
61
Introduction
Possible monitoring programme
Use of the scales in the Freedom Food scheme
Suggested scoring system
Photographic examples for scoring
61
61
62
62
63
The written Veterinary Health and Welfare Plan (VHWP) should be agreed between the vet and
the producer and, where appropriate, the stock-keeper. It should involve regular visits on-site
by the farm's own vet.
It would be preferable if the visits could be carried out by the same vet to give continuity and
consistency of advice. This vet should be named and be responsible for overseeing the drawing
up of the health plan on the first visit as well as an annual review.