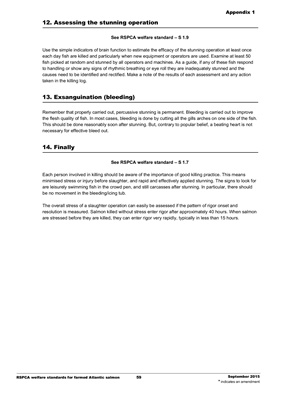 Appendix 1
RSPCA welfare standards for farmed Atlantic salmon 59 September 2015
* indicates an amendment
12. Assessing the stunning operation
See RSPCA welfare standard - S 1.9
Use the simple indicators of brain function to estimate the efficacy of the stunning operation at least once
each day fish are killed and particularly when new equipment or operators are used. Examine at least 50
fish picked at random and stunned by all operators and machines. As a guide, if any of these fish respond
to handling or show any signs of rhythmic breathing or eye roll they are inadequately stunned and the
causes need to be identified and rectified. Make a note of the results of each assessment and any action
taken in the killing log.
13. Exsanguination (bleeding)
Remember that properly carried out, percussive stunning is permanent. Bleeding is carried out to improve
the flesh quality of fish. In most cases, bleeding is done by cutting all the gills arches on one side of the fish.
This should be done reasonably soon after stunning. But, contrary to popular belief, a beating heart is not
necessary for effective bleed out.
14. Finally
See RSPCA welfare standard - S 1.7
Each person involved in killing should be aware of the importance of good killing practice. This means
minimised stress or injury before slaughter, and rapid and effectively applied stunning. The signs to look for
are leisurely swimming fish in the crowd pen, and still carcasses after stunning. In particular, there should
be no movement in the bleeding/icing tub.
The overall stress of a slaughter operation can easily be assessed if the pattern of rigor onset and
resolution is measured. Salmon killed without stress enter rigor after approximately 40 hours. When salmon
are stressed before they are killed, they can enter rigor very rapidly, typically in less than 15 hours.