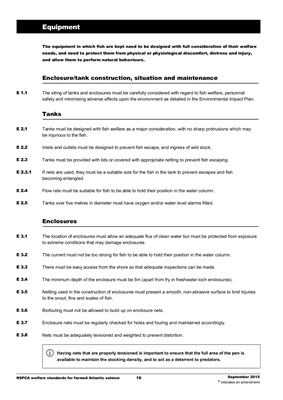 RSPCA welfare standards for farmed Atlantic salmon 16 September 2015
* indicates an amendment
Equipment
The equipment in which fish are kept need to be designed with full consideration of their welfare
needs, and need to protect them from physical or physiological discomfort, distress and injury,
and allow them to perform natural behaviours.
Enclosure/tank construction, situation and maintenance
E 1.1 The siting of tanks and enclosures must be carefully considered with regard to fish welfare, personnel
safety and minimising adverse affects upon the environment as detailed in the Environmental Impact Plan.
Tanks
E 2.1 Tanks must be designed with fish welfare as a major consideration, with no sharp protrusions which may
be injurious to the fish.
E 2.2 Inlets and outlets must be designed to prevent fish escape, and ingress of wild stock.
E 2.3 Tanks must be provided with lids or covered with appropriate netting to prevent fish escaping.
E 2.3.1 If nets are used, they must be a suitable size for the fish in the tank to prevent escapes and fish
becoming entangled.
E 2.4 Flow rate must be suitable for fish to be able to hold their position in the water column.
E 2.5 Tanks over five metres in diameter must have oxygen and/or water level alarms fitted.
Enclosures
E 3.1 The location of enclosures must allow an adequate flux of clean water but must be protected from exposure
to extreme conditions that may damage enclosures.
E 3.2 The current must not be too strong for fish to be able to hold their position in the water column.
E 3.3 There must be easy access from the shore so that adequate inspections can be made.
E 3.4 The minimum depth of the enclosure must be 5m (apart from fry in freshwater loch enclosures).
E 3.5 Netting used in the construction of enclosures must present a smooth, non-abrasive surface to limit injuries
to the snout, fins and scales of fish.
E 3.6 Biofouling must not be allowed to build up on enclosure nets.
E 3.7 Enclosure nets must be regularly checked for holes and fouling and maintained accordingly.
E 3.8 Nets must be adequately tensioned and weighted to prevent distortion.
Having nets that are properly tensioned is important to ensure that the full area of the pen is
available to maintain the stocking density, and to act as a deterrent to predators.
i