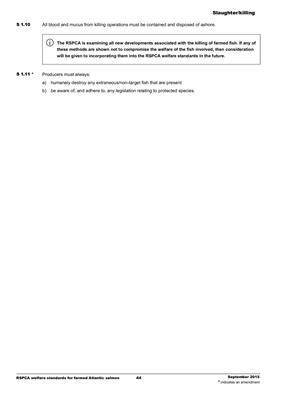 Slaughter/killing
RSPCA welfare standards for farmed Atlantic salmon 44 September 2015
* indicates an amendment
S 1.10 All blood and mucus from killing operations must be contained and disposed of ashore.
The RSPCA is examining all new developments associated with the killing of farmed fish. If any of
these methods are shown not to compromise the welfare of the fish involved, then consideration
will be given to incorporating them into the RSPCA welfare standards in the future.
S 1.11 * Producers must always:
a) humanely destroy any extraneous/non-target fish that are present
b) be aware of, and adhere to, any legislation relating to protected species.
i