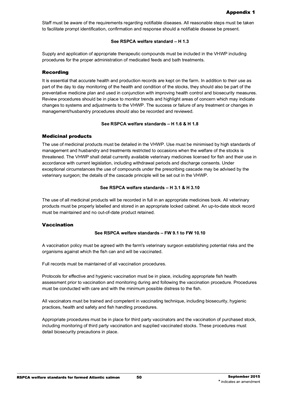 Appendix 1
RSPCA welfare standards for farmed Atlantic salmon 50 September 2015
* indicates an amendment
Staff must be aware of the requirements regarding notifiable diseases. All reasonable steps must be taken
to facilitate prompt identification, confirmation and response should a notifiable disease be present.
See RSPCA welfare standard - H 1.3
Supply and application of appropriate therapeutic compounds must be included in the VHWP including
procedures for the proper administration of medicated feeds and bath treatments.
Recording
It is essential that accurate health and production records are kept on the farm. In addition to their use as
part of the day to day monitoring of the health and condition of the stocks, they should also be part of the
preventative medicine plan and used in conjunction with improving health control and biosecurity measures.
Review procedures should be in place to monitor trends and highlight areas of concern which may indicate
changes to systems and adjustments to the VHWP. The success or failure of any treatment or changes in
management/husbandry procedures should also be recorded and reviewed.
See RSPCA welfare standards - H 1.6 & H 1.8
Medicinal products
The use of medicinal products must be detailed in the VHWP. Use must be minimised by high standards of
management and husbandry and treatments restricted to occasions when the welfare of the stocks is
threatened. The VHWP shall detail currently available veterinary medicines licensed for fish and their use in
accordance with current legislation, including withdrawal periods and discharge consents. Under
exceptional circumstances the use of compounds under the prescribing cascade may be advised by the
veterinary surgeon; the details of the cascade principle will be set out in the VHWP.
See RSPCA welfare standards - H 3.1 & H 3.10
The use of all medicinal products will be recorded in full in an appropriate medicines book. All veterinary
products must be properly labelled and stored in an appropriate locked cabinet. An up-to-date stock record
must be maintained and no out-of-date product retained.
Vaccination
See RSPCA welfare standards - FW 9.1 to FW 10.10
A vaccination policy must be agreed with the farm's veterinary surgeon establishing potential risks and the
organisms against which the fish can and will be vaccinated.
Full records must be maintained of all vaccination procedures.
Protocols for effective and hygienic vaccination must be in place, including appropriate fish health
assessment prior to vaccination and monitoring during and following the vaccination procedure. Procedures
must be conducted with care and with the minimum possible distress to the fish.
All vaccinators must be trained and competent in vaccinating technique, including biosecurity, hygienic
practices, health and safety and fish handling procedures.
Appropriate procedures must be in place for third party vaccinators and the vaccination of purchased stock,
including monitoring of third party vaccination and supplied vaccinated stocks. These procedures must
detail biosecurity precautions in place.