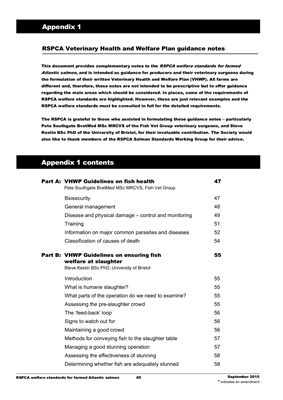 RSPCA welfare standards for farmed Atlantic salmon 45 September 2015
* indicates an amendment
Appendix 1
RSPCA Veterinary Health and Welfare Plan guidance notes
This document provides complementary notes to the RSPCA welfare standards for farmed
Atlantic salmon, and is intended as guidance for producers and their veterinary surgeons during
the formulation of their written Veterinary Health and Welfare Plan (VHWP). All farms are
different and, therefore, these notes are not intended to be prescriptive but to offer guidance
regarding the main areas which should be considered. In places, some of the requirements of
RSPCA welfare standards are highlighted. However, these are just relevant examples and the
RSPCA welfare standards must be consulted in full for the detailed requirements.
The RSPCA is grateful to those who assisted in formulating these guidance notes - particularly
Pete Southgate BvetMed MSc MRCVS of the Fish Vet Group veterinary surgeons, and Steve
Kestin BSc PhD of the University of Bristol, for their invaluable contribution. The Society would
also like to thank members of the RSPCA Salmon Standards Working Group for their advice.
Appendix 1 contents
Part A: VHWP Guidelines on fish health
Pete Southgate BvetMed MSc MRCVS, Fish Vet Group
47
Biosecurity
General management
Disease and physical damage - control and monitoring
Training
Information on major common parasites and diseases
Classification of causes of death
47
48
49
51
52
54
Part B: VHWP Guidelines on ensuring fish
welfare at slaughter
Steve Kestin BSc PhD, University of Bristol
55
Introduction
What is humane slaughter?
What parts of the operation do we need to examine?
Assessing the pre-slaughter crowd
The 'feed-back' loop
Signs to watch out for
Maintaining a good crowd
Methods for conveying fish to the slaughter table
Managing a good stunning operation
Assessing the effectiveness of stunning
Determining whether fish are adequately stunned
55
55
55
55
56
56
56
57
57
58
58