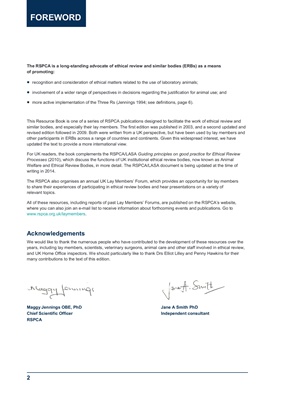 2
Jane A Smith PhD
Independent consultant
Maggy Jennings OBE, PhD
Chief Scientific Officer
RSPCA
FOREWORD
The RSPCA is a long-standing advocate of ethical review and similar bodies (ERBs) as a means
of promoting:
 recognition and consideration of ethical matters related to the use of laboratory animals;
 involvement of a wider range of perspectives in decisions regarding the justification for animal use; and
 more active implementation of the Three Rs (Jennings 1994; see definitions, page 6).
This Resource Book is one of a series of RSPCA publications designed to facilitate the work of ethical review and
similar bodies, and especially their lay members. The first edition was published in 2003, and a second updated and
revised edition followed in 2009. Both were written from a UK perspective, but have been used by lay members and
other participants in ERBs across a range of countries and continents. Given this widespread interest, we have
updated the text to provide a more international view.
For UK readers, the book complements the RSPCA/LASA Guiding principles on good practice for Ethical Review
Processes (2010), which discuss the functions of UK institutional ethical review bodies, now known as Animal
Welfare and Ethical Review Bodies, in more detail. The RSPCA/LASA document is being updated at the time of
writing in 2014.
The RSPCA also organises an annual UK Lay Members" Forum, which provides an opportunity for lay members
to share their experiences of participating in ethical review bodies and hear presentations on a variety of
relevant topics.
All of these resources, including reports of past Lay Members" Forums, are published on the RSPCA"s website,
where you can also join an e-mail list to receive information about forthcoming events and publications. Go to
Acknowledgements
We would like to thank the numerous people who have contributed to the development of these resources over the
years, including lay members, scientists, veterinary surgeons, animal care and other staff involved in ethical review,
and UK Home Office inspectors. We should particularly like to thank Drs Elliot Lilley and Penny Hawkins for their
many contributions to the text of this edition.