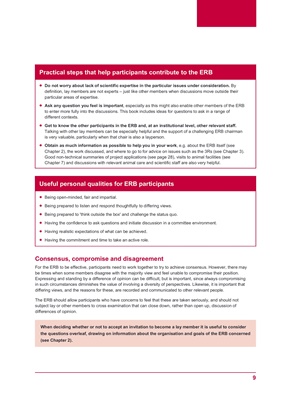 9
Consensus, compromise and disagreement
For the ERB to be effective, participants need to work together to try to achieve consensus. However, there may
be times when some members disagree with the majority view and feel unable to compromise their position.
Expressing and standing by a difference of opinion can be difficult, but is important, since always compromising
in such circumstances diminishes the value of involving a diversity of perspectives. Likewise, it is important that
differing views, and the reasons for these, are recorded and communicated to other relevant people.
The ERB should allow participants who have concerns to feel that these are taken seriously, and should not
subject lay or other members to cross examination that can close down, rather than open up, discussion of
differences of opinion.
Practical steps that help participants contribute to the ERB
 Do not worry about lack of scientific expertise in the particular issues under consideration. By
definition, lay members are not experts - just like other members when discussions move outside their
particular areas of expertise.
 Ask any question you feel is important, especially as this might also enable other members of the ERB
to enter more fully into the discussions. This book includes ideas for questions to ask in a range of
different contexts.
 Get to know the other participants in the ERB and, at an institutional level, other relevant staff.
Talking with other lay members can be especially helpful and the support of a challenging ERB chairman
is very valuable, particularly when that chair is also a layperson.
 Obtain as much information as possible to help you in your work, e.g. about the ERB itself (see
Chapter 2), the work discussed, and where to go to for advice on issues such as the 3Rs (see Chapter 3).
Good non-technical summaries of project applications (see page 28), visits to animal facilities (see
Chapter 7) and discussions with relevant animal care and scientific staff are also very helpful.
Useful personal qualities for ERB participants
 Being open-minded, fair and impartial.
 Being prepared to listen and respond thoughtfully to differing views.
 Being prepared to 'think outside the box' and challenge the status quo.
 Having the confidence to ask questions and initiate discussion in a committee environment.
 Having realistic expectations of what can be achieved.
 Having the commitment and time to take an active role.
When deciding whether or not to accept an invitation to become a lay member it is useful to consider
the questions overleaf, drawing on information about the organisation and goals of the ERB concerned
(see Chapter 2).