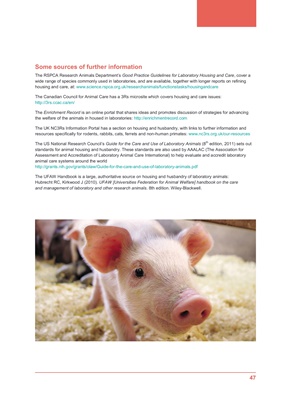 47
Some sources of further information
The RSPCA Research Animals Department"s Good Practice Guidelines for Laboratory Housing and Care, cover a
wide range of species commonly used in laboratories, and are available, together with longer reports on refining
housing and care, at: www.science.rspca.org.uk/researchanimals/functionstasks/housingandcare
The Canadian Council for Animal Care has a 3Rs microsite which covers housing and care issues:
The Enrichment Record is an online portal that shares ideas and promotes discussion of strategies for advancing
the welfare of the animals in housed in laboratories: http://enrichmentrecord.com
The UK NC3Rs Information Portal has a section on housing and husbandry, with links to further information and
resources specifically for rodents, rabbits, cats, ferrets and non-human primates:
www.nc3rs.org.uk/our-resources
The US National Research Council"s Guide for the Care and Use of Laboratory Animals (8th
edition, 2011) sets out
standards for animal housing and husbandry. These standards are also used by AAALAC (The Association for
Assessment and Accreditation of Laboratory Animal Care International) to help evaluate and accredit laboratory
animal care systems around the world
http://grants.nih.gov/grants/olaw/guide-for-the-care-and-use-of-laboratory-animals.pdf
The UFAW Handbook is a large, authoritative source on housing and husbandry of laboratory animals:
Hubrecht RC, Kirkwood J (2010). UFAW [Universities Federation for Animal Welfare] handbook on the care
and management of laboratory and other research animals. 8th edition. Wiley-Blackwell.