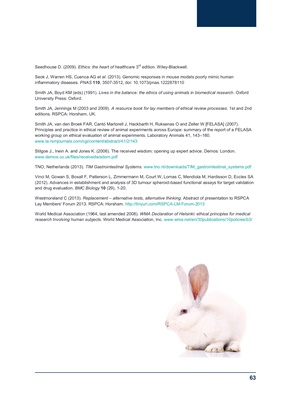 63
Seok J, Warren HS, Cuenca AG et al. (2013). Genomic responses in mouse models poorly mimic human
inflammatory diseases. PNAS 110, 3507-3512, doi: 10.1073/pnas.1222878110
Smith JA, Boyd KM (eds) (1991). Lives in the balance: the ethics of using animals in biomedical research. Oxford
University Press: Oxford.
Smith JA, Jennings M (2003 and 2009). A resource book for lay members of ethical review processes. 1st and 2nd
editions. RSPCA: Horsham, UK.
Smith JA, van den Broek FAR, Cantó Martorell J, Hackbarth H, Ruksenas O and Zeller W [FELASA] (2007).
Principles and practice in ethical review of animal experiments across Europe: summary of the report of a FELASA
working group on ethical evaluation of animal experiments. Laboratory Animals 41, 143-160.
www.la.rsmjournals.com/cgi/content/abstract/41/2/143
Stilgoe J., Irwin A. and Jones K. (2006). The received wisdom: opening up expert advice. Demos: London.
www.demos.co.uk/files/receivedwisdom.pdf
TNO, Netherlands (2013). TIM Gastrointestinal Systems. www.tno.nl/downloads/tim_gastrointestinal_systems.pdf
Vinci M, Gowan S, Boxall F, Patterson L, Zimmermann M, Court W, Lomas C, Mendiola M, Hardisson D, Eccles SA
(2012). Advances in establishment and analysis of 3D tumour spheroid-based functional assays for target validation
and drug evaluation. BMC Biology 10 (29), 1-20.
Westmoreland C (2013). Replacement - alternative tests, alternative thinking. Abstract of presentation to RSPCA
Lay Members' Forum 2013. RSPCA: Horsham. http://tinyurl.com/rspca-lm-forum-2013
World Medical Association (1964, last amended 2008). WMA Declaration of Helsinki: ethical principles for medical
research Involving human subjects. World Medical Association, Inc. www.wma.net/en/30publications/10policies/b3/