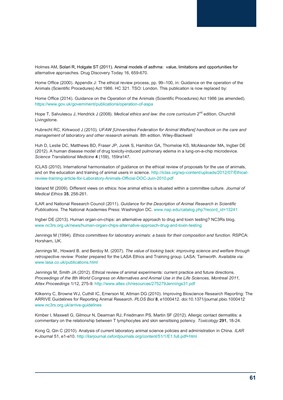 61
Holmes AM, Solari R, Holgate ST (2011). Animal models of asthma: value, limitations and opportunities for
alternative approaches. Drug Discovery Today 16, 659-670.
Home Office (2000). Appendix J: The ethical review process, pp. 99-100, in: Guidance on the operation of the
Animals (Scientific Procedures) Act 1986. HC 321. TSO: London. This publication is now replaced by:
Home Office (2014). Guidance on the Operation of the Animals (Scientific Procedures) Act 1986 (as amended).
https://www.gov.uk/government/publications/operation-of-aspa
Hope T, Salvulescu J, Hendrick J (2008). Medical ethics and law: the core curriculum 2nd edition. Churchill
Livingstone.
Hubrecht RC, Kirkwood J (2010). UFAW [Universities Federation for Animal Welfare] handbook on the care and
management of laboratory and other research animals. 8th edition. Wiley-Blackwell
Huh D, Leslie DC, Matthews BD, Fraser JP, Jurek S, Hamilton GA, Thorneloe KS, McAlexander MA, Ingber DE
(2012). A human disease model of drug toxicity-induced pulmonary edema in a lung-on-a-chip microdevice.
Science Translational Medicine 4 (159), 159ra147.
ICLAS (2010). International harmonisation of guidance on the ethical review of proposals for the use of animals,
and on the education and training of animal users in science. http://tinyurl.com/iclas-ethical-review
Ideland M (2009). Different views on ethics: how animal ethics is situated within a committee culture. Journal of
Medical Ethics 35, 258-261.
ILAR and National Research Council (2011). Guidance for the Description of Animal Research in Scientific
Publications. The National Academies Press: Washington DC. www.nap.edu/catalog.php?record_id=13241
Ingber DE (2013). Human organ-on-chips: an alternative approach to drug and toxin testing? NC3Rs blog.
http://blog.nc3rs.org.uk/human-organ-on-chips-an-alternative-approach-to-drug-and-toxin-testing/
Jennings M (1994). Ethics committees for laboratory animals: a basis for their composition and function. RSPCA:
Horsham, UK.
Jennings M., Howard B. and Berdoy M. (2007). The value of looking back: improving science and welfare through
retrospective review. Poster prepared for the LASA Ethics and Training group. LASA: Tamworth. Available via:
www.lasa.co.uk/position_papers/publications.asp
Jennings M, Smith JA (2012). Ethical review of animal experiments: current practice and future directions.
Proceedings of the 8th World Congress on Alternatives and Animal Use in the Life Sciences, Montreal 2011,
Altex Proceedings 1/12, 275-9. http://www.altex.ch/resources/275279jennings31.pdf
Kilkenny C, Browne WJ, Cuthill IC, Emerson M, Altman DG (2010). Improving Bioscience Research Reporting: The
ARRIVE Guidelines for Reporting Animal Research. PLOS Biol 8, e1000412. doi:10.1371/journal.pbio.1000412
http://tinyurl.com/nc3rs-aarrive
Kimber I, Maxwell G, Gilmour N, Dearman RJ, Friedmann PS, Martin SF (2012). Allergic contact dermatitis: a
commentary on the relationship between T lymphocytes and skin sensitising potency. Toxicology 291, 18-24.
Kong Q, Qin C (2010). Analysis of current laboratory animal science policies and administration in China. ILAR
e-Journal 51, e1-e10. http://ilarjournal.oxfordjournals.org/content/51/1/e1.full.pdf+html
LASA (2004). Guidance on the Rehoming of Laboratory Dogs. Download at www.lasa.co.uk/publications.html