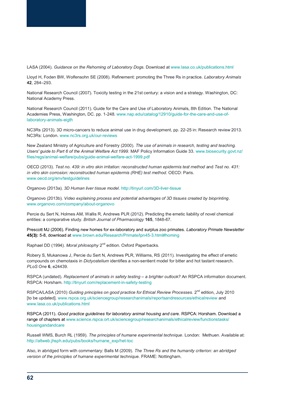 62
Lloyd H, Foden BW, Wolfensohn SE (2008). Refinement: promoting the Three Rs in practice. Laboratory Animals
42, 284-293.
National Research Council (2007). Toxicity testing in the 21st century: a vision and a strategy. Washington, DC:
National Academy Press.
National Research Council (2011). Guide for the Care and Use of Laboratory Animals, 8th Edition. The National
Academies Press, Washington, DC. pp. 1-248. http://grants.nih.gov/grants/olaw/guide-for-the-care-and-use-oflaboratory-animals.pdf
NC3Rs (2013). 3D micro-cancers to reduce animal use in drug development, pp. 22-25 in: Research review 2013.
NC3Rs: London. www.nc3rs.org.uk/our-reviews
New Zealand Ministry of Agriculture and Forestry (2000). The use of animals in research, testing and teaching.
Users' guide to Part 6 of the Animal Welfare Act 1999. MAF Policy Information Guide 33. www.biosecurity.govt.nz/
files/regs/animal-welfare/pubs/guide-animal-welfare-act-1999.pdf
OECD (2013). Test no. 439: in vitro skin irritation: reconstructed human epidermis test method and Test no. 431:
in vitro skin corrosion: reconstructed human epidermis (RHE) test method. OECD: Paris.
www.oecd.org/env/testguidelines
Organovo (2013a). 3D Human liver tissue model. http://tinyurl.com/3d-liver-tissue
Organovo (2013b). Video explaining process and potential advantages of 3D tissues created by bioprinting.
www.organovo.com/company/about-organovo
Percie du Sert N, Holmes AM, Wallis R, Andrews PLR (2012). Predicting the emetic liability of novel chemical
entities: a comparative study. British Journal of Pharmacology 165, 1848-67.
Prescott MJ (2006). Finding new homes for ex-laboratory and surplus zoo primates. Laboratory Primate Newsletter
45(3): 5-8, download at www.brown.edu/research/primate/lpn45-3.html#homing
Raphael DD (1994). Moral philosophy 2nd edition. Oxford Paperbacks.
Robery S, Mukanowa J, Percie du Sert N, Andrews PLR, Williams, RS (2011). Investigating the effect of emetic
compounds on chemotaxis in Dictyostelium identifies a non-sentient model for bitter and hot tastant research.
PLoS One 6, e24439.
RSPCA (undated). Replacement of animals in safety testing - a brighter outlook? An RSPCA information document.
RSPCA: Horsham. http://tinyurl.com/replacement-in-safety-testing
RSPCA/LASA (2010) Guiding principles on good practice for Ethical Review Processes. 2nd edition, July 2010
[to be updated]. www.rspca.org.uk/sciencegroup/researchanimals/reportsandresources/ethicalreview and
www.lasa.co.uk/publications.html
RSPCA (2011). Good practice guidelines for laboratory animal housing and care. RSPCA: Horsham. Download a
range of chapters at www.science.rspca.ort.uk/sciencegroup/researchanimals/ethicalreview/functionstasks/
housingandandcare
Russell WMS, Burch RL (1959). The principles of humane experimental technique. London: Methuen. Available at:
http://altweb.jhsph.edu/pubs/books/humane_exp/het-toc
Also, in abridged form with commentary: Balls M (2009). The Three Rs and the humanity criterion: an abridged
version of the principles of humane experimental technique. FRAME: Nottingham.
Seedhouse D. (2009). Ethics: the heart of healthcare 3rd edition. Wiley-Blackwell.