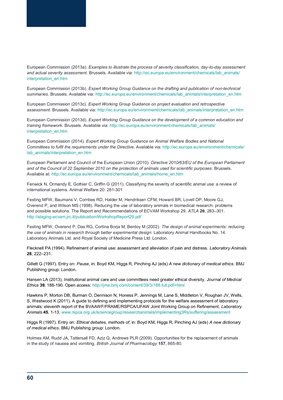 60
European Commission (2013a). Examples to illustrate the process of severity classification, day-to-day assessment
and actual severity assessment. Brussels. Available via: http://ec.europa.eu/environment/chemicals/lab_animals/
interpretation_en.htm
European Commission (2013b). Expert Working Group Guidance on the drafting and publication of non-technical
summaries. Brussels. Available via: http://ec.europa.eu/environment/chemicals/lab_animals/interpretation_en.htm
European Commission (2013c). Expert Working Group Guidance on project evaluation and retrospective
assessment. Brussels. Available via: http://ec.europa.eu/environment/chemicals/lab_animals/interpretation_en.htm
European Commission (2013d). Expert Working Group Guidance on the development of a common education and
training framework. Brussels. Available via: http://ec.europa.eu/environment/chemicals/lab_animals/
interpretation_en.htm
European Commission (2014). Expert Working Group Guidance on Animal Welfare Bodies and National
Committees to fulfil the requirements under the Directive. Available via: http://ec.europa.eu/environment/chemicals/
lab_animals/home_en.htm
European Parliament and Council of the European Union (2010). Directive 2010/63/EU of the European Parliament
and of the Council of 22 September 2010 on the protection of animals used for scientific purposes. Brussels.
Available at: http://ec.europa.eu/environment/chemicals/lab_animals/home_en.htm
Fenwick N, Ormandy E, Gothier C, Griffin G (2011). Classifying the severity of scientific animal use: a review of
international systems. Animal Welfare 20: 281-301
Festing MFW, Baumans V, Combes RD, Halder M, Hendriksen CFM, Howard BR, Lovell DP, Moore GJ, Overend
P, and Wilson MS (1998). Reducing the use of laboratory animals in biomedical research: problems and possible
solutions. The Report and Recommendations of ECVAM Workshop 29. ATLA 26, 283-301.
www.frame.org.uk/dynamic_files/26festingetal.pdf
Festing MFW, Overend P, Das RG, Cortina Borja M, Berdoy M (2002). The design of animal experiments: reducing
the use of animals in research through better experimental design. Laboratory Animal Handbooks No. 14.
Laboratory Animals Ltd. and Royal Society of Medicine Press Ltd: London.
Flecknell PA (1994). Refinement of animal use: assessment and alleviation of pain and distress. Laboratory Animals
28, 222-231.
Gillett G (1997). Entry on: Pause, in: Boyd KM, Higgs R, Pinching AJ (eds) A new dictionary of medical ethics. BMJ
Publishing group: London.
Hansen LA (2013). Institutional animal care and use committees need greater ethical diversity. Journal of Medical
Ethics 39, 188-190. Open access: http://jme.bmj.com/content/39/3/188.full.pdf+html
Hawkins P, Morton DB, Burman O, Dennison N, Honess P, Jennings M, Lane S, Middleton V, Roughan JV, Wells,
S, Westwood K (2011). A guide to defining and implementing protocols for the welfare assessment of laboratory
animals: eleventh report of the BVAAWF/FRAME/RSPCA/UFAW Joint Working Group on Refinement. Laboratory
Animals 45, 1-13. www.rspca.org.uk/sciencegroup/researchanimals/implementing3rs/suffering/assessment
Higgs R (1997). Entry on: Ethical debates, methods of, in: Boyd KM, Higgs R, Pinching AJ (eds) A new dictionary
of medical ethics. BMJ Publishing group: London.
Holmes AM, Rudd JA, Tattersall FD, Aziz Q, Andrews PLR (2009). Opportunities for the replacement of animals
in the study of nausea and vomiting. British Journal of Pharmacology 157, 865-80.