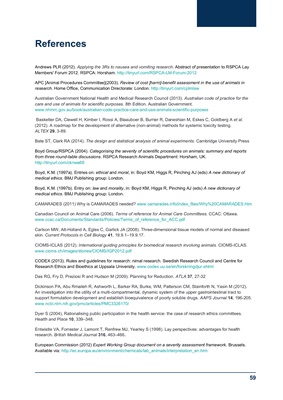 59
Andrews PLR (2012). Applying the 3Rs to nausea and vomiting research. Abstract of presentation to RSPCA Lay
Members' Forum 2012. RSPCA: Horsham. http://tinyurl.com/rspca-lm-forum-2012
APC [Animal Procedures Committee](2003). Review of cost [harm]-benefit assessment in the use of animals in
research. Home Office, Communication Directorate: London. http://tinyurl.com/cplmlaw
Australian Government National Health and Medical Research Council (2013). Australian code of practice for the
care and use of animals for scientific purposes. 8th Edition. Australian Government.
www.nhmrc.gov.au/book/australian-code-practice-care-and-use-animals-scientific-purposes
Basketter DA, Clewell H, Kimber I, Rossi A, Blaauboer B, Burrier R, Daneshian M, Eskes C, Goldberg A et al.
(2012). A roadmap for the development of alternative (non-animal) methods for systemic toxicity testing.
ALTEX 29, 3-89.
Bate ST, Clark RA (2014). The design and statistical analysis of animal experiments. Cambridge University Press
Boyd Group/RSPCA (2004). Categorising the severity of scientific procedures on animals: summary and reports
from three round-table discussions. RSPCA Research Animals Department: Horsham, UK.
Boyd, K.M. (1997a). Entries on: ethical and moral, in: Boyd KM, Higgs R, Pinching AJ (eds) A new dictionary of
medical ethics. BMJ Publishing group: London.
Boyd, K.M. (1997b). Entry on: law and morality, in: Boyd KM, Higgs R, Pinching AJ (eds) A new dictionary of
medical ethics. BMJ Publishing group: London.
CAMARADES (2011) Why is CAMARADES needed? www.camarades.info/index_files/why%20camarades.htm
Canadian Council on Animal Care (2006). Terms of reference for Animal Care Committees. CCAC: Ottawa.
www.ccac.ca/documents/standards/policies/terms_of_reference_for_acc.pdf
Carlson MW, Alt-Holland A, Egles C, Garlick JA (2008). Three-dimensional tissue models of normal and diseased
skin. Current Protocols in Cell Biology 41, 19.9.1-19.9.17.
CIOMS-ICLAS (2012). International guiding principles for biomedical research involving animals. CIOMS-ICLAS.
www.cioms.ch/images/stories/cioms/igp2012.pdf
CODEX (2013). Rules and guidelines for research: nimal research. Swedish Research Council and Centre for
Research Ethics and Bioethics at Uppsala University. www.codex.uu.se/en/forskningdjur.shtml
Das RG, Fry D, Preziosi R and Hudson M (2009). Planning for Reduction. ATLA 37, 27-32
Dickinson PA, Abu Rmaileh R, Ashworth L, Barker RA, Burke, WM, Patterson CM, Stainforth N, Yasin M (2012).
An investigation into the utility of a multi-compartmental, dynamic system of the upper gastrointestinal tract to
support formulation development and establish bioequivalence of poorly soluble drugs. AAPS Journal 14, 196-205.
www.ncbi.nlm.nih.gov/pmc/articles/pmc3326170/
Dyer S (2004). Rationalising public participation in the health service: the case of research ethics committees.
Health and Place 10, 339-348.
Entwistle VA, Forrester J, Lamont T, Renfrew MJ, Yearley S (1998). Lay perspectives: advantages for health
research. British Medical Journal 316, 463-466.
European Commission (2012) Expert Working Group document on a severity assessment framework. Brussels.
Available via: http://ec.europa.eu/environment/chemicals/lab_animals/interpretation_en.htm
References