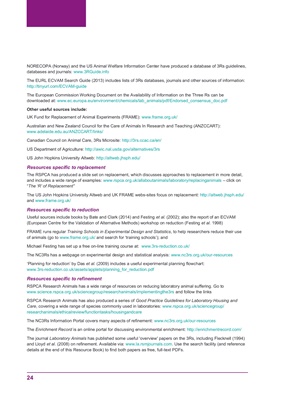 24
NORECOPA (Norway) and the US Animal Welfare Information Center have produced a database of 3Rs guidelines,
databases and journals: www.3rguide.info
The EURL ECVAM Search Guide (2013) includes lists of 3Rs databases, journals and other sources of information:
http://tinyurl.com/ecvam-guide
The European Commission Working Document on the Availability of Information on the Three Rs can be
downloaded at: ec.europa.eu/environment/chemicals/lab_animals/pdf/endorsed_consensus_dob.pdf
Other useful sources include:
UK Fund for Replacement of Animal Experiments (FRAME): www.frame.org.uk/
Australian and New Zealand Council for the Care of Animals In Research and Teaching (ANZCCART):
www.adelaide.edu.au/anzccart/links/
Canadian Council on Animal Care, 3Rs Microsite: http://3rs.ccac.ca/en/
US Department of Agriculture: http://awic.nal.usda.gov/alternatives/3rs
US John Hopkins University Altweb: http://altweb.jhsph.edu/
Resources specific to replacement
The RSPCA has produced a slide set on replacement, which discusses approaches to replacement in more detail,
and includes a wide range of examples: www.rspca.org.uk/allaboutanimals/laboratory/replacinganimals - click on
"The "R" of Replacement"
The US John Hopkins University Altweb and UK FRAME webs-sites focus on replacement: http://altweb.jhsph.edu/
Resources specific to reduction
Useful sources include books by Bate and Clark (2014) and Festing et al. (2002); also the report of an ECVAM
(European Centre for the Validation of Alternative Methods) workshop on reduction (Festing et al. 1998)
FRAME runs regular Training Schools in Experimental Design and Statistics, to help researchers reduce their use
of animals (go to www.frame.org.uk/ and search for "training schools"); and
Michael Festing has set up a free on-line training course at: www.3rs-reduction.co.uk/
The NC3Rs has a webpage on experimental design and statistical analysis: www.nc3rs.org.uk/our-resources
"Planning for reduction" by Das et al. (2009) includes a useful experimental planning flowchart:
www.3rs-reduction.co.uk/assets/applets/planning_for_reduction.pdf
Resources specific to refinement
RSPCA Research Animals has a wide range of resources on reducing laboratory animal suffering. Go to
www.science.rspca.org.uk/sciencegroup/researchanimals/implementingthe3rs and follow the links
RSPCA Research Animals has also produced a series of Good Practice Guidelines for Laboratory Housing and
Care, covering a wide range of species commonly used in laboratories: www.rspca.org.uk/sciencegroup/
researchanimals/ethicalreview/functiontasks/housingandcare
The NC3Rs Information Portal covers many aspects of refinement: www.nc3rs.org.uk/our-resources
The Enrichment Record is an online portal for discussing environmental enrichment: http://enrichmentrecord.com/
The journal Laboratory Animals has published some useful 'overview' papers on the 3Rs, including Flecknell (1994)
and Lloyd et al. (2008) on refinement. Available via: www.la.rsmjournals.com. Use the search facility (and reference
details at the end of this Resource Book) to find both papers as free, full-text PDFs.