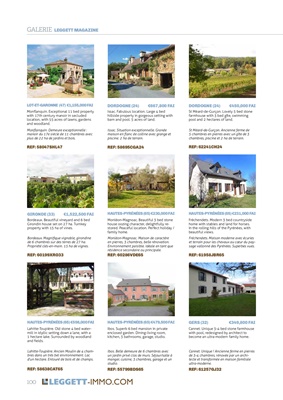 100
GALERIE LEGGETT MAGAZINE
LOT-ET-GARONNE (47) €1,155,000 FAI
Monflanquin. Exceptional 11 bed property
with 17th century manoir in secluded
location, with 55 acres of lawns, gardens
and woodland.
Monflanquin. Demeure exceptionnelle :
manoir du 17e siècle de 11 chambres avec
plus de 22 ha de jardins et bois.
REF: 58047SHL47
DORDOGNE (24) €667,800 FAI
Issac. Fabulous location. Large 4 bed
hillside property in gorgeous setting with
barn and pool. 5 acres of land.
Issac. Situation exceptionnelle. Grande
maison en flanc de colline avec grange et
piscine. 2 ha de terrain.
REF: 58695CGA24
DORDOGNE (24) €450,000 FAI
St Méard-de-Gurçon. Lovely 5 bed stone
farmhouse with 3 bed gîte, swimming
pool and 2 hectares of land.
St Méard-de-Gurçon. Ancienne ferme de
5 chambres en pierres avec un gîte de 3
chambres, piscine et 2 ha de terrain.
REF: 62241CH24
GIRONDE (33) €1,522,500 FAI
Bordeaux. Beautiful vineyard and 6 bed
Girondin house set on 27 ha. Turnkey
property with 15 ha of vines.
Bordeaux. Magnifique vignoble, girondine
de 6 chambres sur des terres de 27 ha.
Propriété clés-en-main. 15 ha de vignes.
REF: 60199XRO33
HAUTES-PYRÉNÉES (65) €230,000 FAI
Monléon-Magnoac. Beautiful 3 bed stone
house oozing character, delightfully restored.
Peaceful location. Perfect holiday /
family home.
Monléon-Magnoac. Maison de caractère
en pierres, 3 chambres, belle rénovation.
Environnement paisible. Idéale en tant que
résidence secondaire ou principale.
REF: 60286VDE65
HAUTES-PYRÉNÉES (65) €231,000 FAI
Fréchendets. Modern 3 bed countryside
home with stables and land for horses.
In the rolling hills of the Pyrénées, with
beautiful views.
Fréchendets. Maison moderne avec écuries
et terrain pour les chevaux au cœur du paysage vallonné
des Pyrénées. Superbes vues.
REF: 61958JBR65
HAUTES-PYRÉNÉES (65) €598,000 FAI
Lahitte-Toupière. Old stone 4 bed watermill in idyllic setting down
a lane, with a
1 hectare lake. Surrounded by woodland
and fields.
Lahitte-Toupière. Ancien Moulin de 4 chambres dans un très bel environnement. Lac
d'un hectare. Entouré de bois et de champs.
REF: 58638CAT65
HAUTES-PYRÉNÉES (65) €479,500 FAI
Ibos. Superb 6 bed mansion in private
enclosed garden. Dining-living room,
kitchen, 3 bathrooms, garage, studio.
Ibos. Belle demeure de 6 chambres avec
un jardin privé clos de murs. Séjour/salle à
manger, cuisine, 3 chambres, garage et un
studio.
REF: 55799BDS65
GERS (32) €349,800 FAI
Cannet. Unique 3-4 bed stone farmhouse
with pool, redesigned by architect to
become an ultra-modern family home.
Cannet. Unique ! Ancienne ferme en pierres
de 3-4 chambres, rénovée par un architecte et transformée
en maison familiale
ultra-moderne.
REF: 61257GJ32