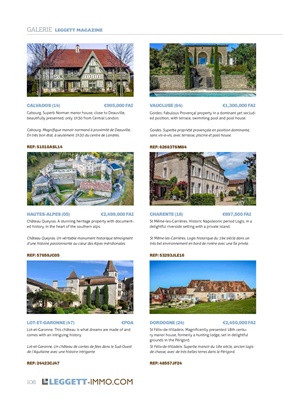 108
GALERIE LEGGETT MAGAZINE
CALVADOS (14) €995,000 FAI
Cabourg. Superb Norman manor house, close to Deauville,
beautifully presented, only 1h30 from Central London.
Cabourg. Magnifique manoir normand à proximité de Deauville.
En très bon état, à seulement 1h30 du centre de Londres.
REF: 51018ASL14
VAUCLUSE (84) €1,300,000 FAI
Gordes. Fabulous Provençal property in a dominant yet secluded position, with terrace,
swimming pool and pool house.
Gordes. Superbe propriété provençale en position dominante,
sans vis-à-vis, avec terrasse, piscine et pool house.
REF: 62683TSM84
HAUTES-ALPES (05) €2,499,000 FAI
Château Queyras. A stunning heritage property with documented history,
in the heart of the southern alps.
Château Queyras. Un véritable monument historique témoignant
d'une histoire passionnante au cœur des Alpes méridionales.
REF: 57659JC05
CHARENTE (16) €997,500 FAI
St Même-les-Carrières. Historic Napoleonic period Logis, in a
delightful riverside setting with a private island.
St Même-les-Carrières. Logis historique du 19e siècle dans un
très bel environnement en bord de rivière avec une île privée.
REF: 53293JLE16
LOT-ET-GARONNE (47) €POA
Lot-et-Garonne. This château is what dreams are made of and
comes with an intriguing history.
Lot-et-Garonne. Un château de contes de fées dans le Sud-Ouest
de l'Aquitaine avec une histoire intrigante
REF: 24423CJ47
DORDOGNE (24) €2,450,000 FAI
St Félix-de-Villadeix. Magnificently presented 18th century manor house,
formerly a hunting lodge, set in delightful
grounds in the Périgord.
St Félix-de-Villadeix. Superbe manoir du 18e siècle, ancien logis
de chasse, avec de très belles terres dans le Périgord.
REF: 48557JF24