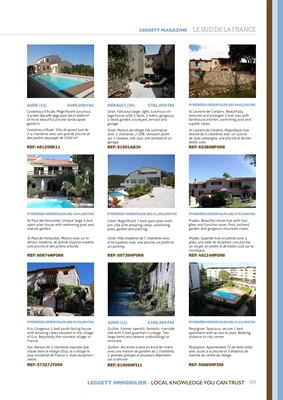 89
AUDE (11) €499,000 FAI
Castelnau-d'Aude. Magnificent luxurious
3-4 bed villa with large pool. Set in 3000 m²
of most beautiful private landscaped
gardens.
Castelnau-d'Aude. Villa de grand luxe de
3-4 chambres avec une grande piscine et
des jardins paysagés de 3000 m².
REF: 49125RK11
HÉRAULT (34) €381,600 FAI
Siran. Fabulous large, light, luxurious village
house with 5 beds, 2 baths, gorgeous
2-level garden, courtyard, terrace and
garage.
Siran. Maison de village très lumineuse
avec 5 chambres, 2 SDB, ravissant jardin
sur 2 niveaux, une cour, une terrasse et un
garage.
REF: 51501AS34
PYRÉNÉES-ORIENTALES (66) €445,200 FAI
St Laurent-de-Cerdans. Beautifully
restored and enlarged 3 bed mas with
farmhouse kitchen, swimming pool and
superb views.
St Laurent-de-Cerdans. Magnifique mas
rénové de 3 chambres avec un cuisine
de style campagne, une piscine et de très
belles vues.
REF: 62388NPO66
PYRÉNÉES-ORIENTALES (66) €344,500 FAI
St Paul-de-Fenouillet. Unique large 3 bed
open-plan house with swimming pool and
mature garden.
St Paul-de-Fenouillet. Maison avec un intérieur moderne, de grands
espaces ouverts,
une piscine et des jardins arborés.
REF: 60674NPO66
PYRÉNÉES-ORIENTALES (66) €1,365,000 FAI
Céret. Magnificent 7 bed open-plan modern villa with amazing views,
swimming
pool, garden and parking.
Céret. Villa moderne de 7 chambres avec
d'incroyables vues, une piscine, un jardin et
un parking.
REF: 59726HPO66
PYRÉNÉES-ORIENTALES (66) €703,000 FAI
Prades. Beautiful stone mas with four
gîtes and function room. Pool, orchard,
garden and gorgeous mountain views.
Prades. Superbe mas en pierres avec 4
gîtes, une salle de réception, une piscine,
un verger, un jardin et de belles vues sur la
montagne.
REF: 49114HPO66
PYRÉNÉES-ORIENTALES (66) €149,000 FAI
Eus. Gorgeous 2 bed south-facing house
with amazing views situated in the village
of Eus. Reputedly the sunniest village in
France.
Eus. Maison de 2 chambres exposée Sud,
située dans le village d'Eus, le « village le
plus ensoleillé de France ». Vues exceptionnelles.
REF: 57327JTU66
AUDE (11) €196,560 FAI
Quillan. Former sawmill, fantastic riverside
site with 2 bed guardian's cottage. Two
large barns and several outbuildings to
renovate.
Quillan. Ancienne scierie en bord de rivière
avec une maison de gardien de 2 chambres,
2 grandes granges et plusieurs dépendan-
ces à rénover.
REF: 61906HFI11
PYRÉNÉES-ORIENTALES (66) €114,450 FAI
Perpignan. Spacious, secure 1 bed
apartment with access to pool. Walking
distance to city centre.
Perpignan. Appartement T2 de belle taille
avec accès à la piscine et à distance de
marche du centre du village.
REF: 50689HFI66
LEGGETT MAGAZINE LE SUD DE LA FRANCE
LEGGETT IMMOBILIER - LOCAL KNOWLEDGE YOU CAN TRUST