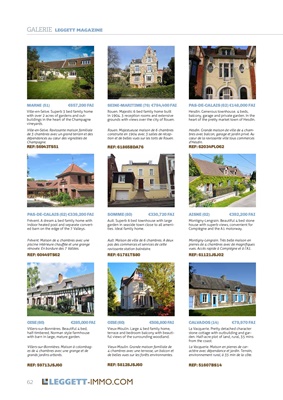 62
GALERIE LEGGETT MAGAZINE
MARNE (51) €657,200 FAI
Ville-en-Selve. Superb 3 bed family home
with over 2 acres of gardens and outbuildings in the heart of
the Champagne
vineyards.
Ville-en-Selve. Ravissante maison familiale
de 3 chambres avec un grand terrain et des
dépendances au cœur des vignobles de
Champagne.
REF: 56943TS51
SEINE-MARITIME (76) €784,400 FAI
Rouen. Majestic 6 bed family home built
in 1904. 3 reception rooms and extensive
grounds with views over the city of Rouen.
Rouen. Majestueuse maison de 6 chambres
construite en 1904 avec 3 salles de réception et de belles
vues sur les toits de Rouen.
REF: 61865BDA76
PAS-DE-CALAIS (62) €148,000 FAI
Hesdin. Generous townhouse. 4 beds,
balcony, garage and private garden. In the
heart of the pretty market town of Hesdin.
Hesdin. Grande maison de ville de 4 chambres avec balcon, garage
et jardin privé. Au
cœur de la ravissante ville tous commerces
d'Hesdin.
REF: 62034PLO62
PAS-DE-CALAIS (62) €339,200 FAI
Frévent. A dream 4 bed family home with
indoor heated pool and separate converted barn on the edge
of the 7 Valleys.
Frévent. Maison de 4 chambres avec une
piscine intérieure chauffée et une grange
rénovée. En bordure des 7 Vallées.
REF: 60449TS62
SOMME (80) €330,720 FAI
Ault. Superb 6 bed townhouse with large
garden in seaside town close to all amenities. Ideal family
home.
Ault. Maison de ville de 6 chambres. A deux
pas des commerces et services de cette
ravissante station balnéaire.
REF: 61781TS80
AISNE (02) €392,200 FAI
Montigny-Lengrain. Beautiful 4 bed stone
house with superb views, convenient for
Compiègne and the A1 motorway.
Montigny-Lengrain. Très belle maison en
pierres de 4 chambres avec de magnifiques
vues. Accès rapide à Compiègne et à l'A1.
REF: 61121JSJ02
OISE (60) €285,000 FAI
Villers-sur-Bonnières. Beautiful 4 bed,
half-timbered, Norman style farmhouse
with barn in large, mature garden.
Villers-sur-Bonnières. Maison à colombages de 4 chambres avec une grange
et de
grands jardins arborés.
REF: 59713JSJ60
OISE (60) €508,800 FAI
Vieux-Moulin. Large 4 bed family home,
terrace and bedroom balcony with beautiful views
of the surrounding woodland.
Vieux-Moulin. Grande maison familiale de
4 chambres avec une terrasse, un balcon et
de belles vues sur les forêts environnantes.
REF: 58128JSJ60
CALVADOS (14) €79,970 FAI
La Vacquerie. Pretty detached character
stone cottage with outbuilding and garden. Half-acre
plot of land, rural, 35 mins
from the coast.
La Vacquerie. Maison en pierres de caractère avec dépendance et jardin. Terrain,
environnement rural, à 35 min de la côte.
REF: 51607BS14