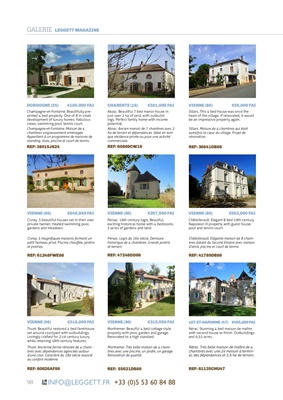 98
GALERIE LEGGETT MAGAZINE
DORDOGNE (24) €180,000 FAI
Champagne-et-Fontaine. Beautifully presented 4 bed property.
One of 8 in small
development of luxury homes. Fabulous
views, swimming pool, tennis court.
Champagne-et-Fontaine. Maison de 4
chambres soigneusement aménagée.
Appartient à un programme de maisons de
standing. Vues, piscine et court de tennis.
REF: 38015JS24
CHARENTE (16) €381,600 FAI
Abzac. Beautiful 7 bed manor house in
just over 2 ha of land, with outbuildings. Perfect
family home with income
potential.
Abzac. Ancien manoir de 7 chambres avec 2
ha de terrain et dépendances. Idéal en tant
que résidence privée ou pour une activité
commerciale.
REF: 60869CW16
VIENNE (86) €56,000 FAI
Sillars. This 4 bed house was once the
heart of the village. If renovated, it would
be an impressive property again.
Sillars. Maison de 4 chambres qui était
autrefois le cœur du village. Projet de
rénovation.
REF: 36641DB86
VIENNE (86) €846,940 FAI
Civray. 3 beautiful houses set in their own
private hamlet. Heated swimming pool,
gardens and meadows.
Civray. 3 magnifiques maisons formant un
petit hameau privé. Piscine chauffée, jardins
et prairies.
REF: 61248FWE86
VIENNE (86) €267,500 FAI
Persac. 16th century logis. Beautful,
exciting historical home with 4 bedrooms.
5 acres of gardens and land.
Persac. Logis du 16e siècle. Demeure
historique de 4 chambres. Grands jardins
et terrain.
REF: 47248DD86
VIENNE (86) €583,000 FAI
Châtellerault. Elegant 8 bed 19th century
Napoleon III property with guest house,
pool and tennis court.
Châtellerault. Elégante maison de 8 chambres datant
du Second Empire avec maison
d'amis, piscine et court de tennis.
REF: 41789DB86
VIENNE (86) €318,000 FAI
Thuré. Beautiful restored 4 bed farmhouse
set around courtyard with outbuildings.
Lovingly crafted for 21st century luxury
while retaining 18th century features.
Thuré. Ancienne ferme rénovée de 4 chambres avec dépendances agencées autour
d'une cour. Caractère du 18e siècle associé
au confort moderne.
REF: 60626AF86
VIENNE (86) €315,650 FAI
Morthemer. Beauiful 4 bed cottage style
property with pool, garden and garage.
Renovated to a high standard.
Morthemer. Très belle maison de 4 chambres avec une piscine, un jardin, un garage.
Rénovation de qualité.
REF: 55621DB86
LOT-ET-GARONNE (47) €495,000 FAI
Nérac. Stunning 4 bed maison de maître
with second house to finish. Outbuildings
and 6.35 acres.
Nérac. Très belle maison de maître de 4
chambres avec une 2e maison à terminer,
des dépendances et 2,6 ha de terrain.
REF: 61135CHU47
info@leggett.frttp://leggett.fr" target="_blank" title="Visit leggett.fr">leggett.fr +33 (0)5 53 60 84 88