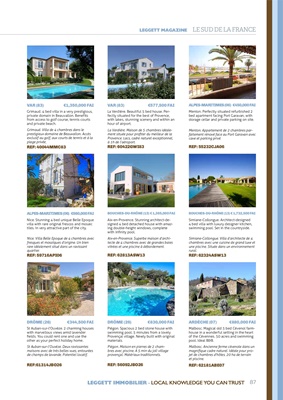 87
LEGGETT IMMOBILIER - LOCAL KNOWLEDGE YOU CAN TRUST 87
LEGGETT MAGAZINE LE SUD DE LA FRANCE
LEGGETT IMMOBILIER - LOCAL KNOWLEDGE YOU CAN TRUST
VAR (83) €1,350,000 FAI
Grimaud. 4 bed villa in a very prestigious,
private domain in Beauvallon. Benefits
from access to golf course, tennis courts
and private beach.
Grimaud. Villa de 4 chambres dans le
prestigieux domaine de Beauvallon. Accès
exclusif au golf, aux courts de tennis et à la
plage privée.
REF: 40044MMC83
VAR (83) €577,500 FAI
La Verdière. Beautiful 5 bed house. Perfectly
situated for the best of Provence,
with lakes, stunning scenery and within an
hour of airport.
La Verdière. Maison de 5 chambres idéalement située pour profiter du meilleur
de la
Provence. Lacs, cadre naturel exceptionnel,
à 1h de l'aéroport.
REF: 60422GWI83
ALPES-MARITIMES (06) €450,000 FAI
Menton. Perfectly situated refurbished 2
bed apartment facing Port Garavan, with
storage cellar and private parking on site.
Menton. Appartement de 2 chambres parfaitement
rénové face au Port Garavan avec
cave et parking privé.
REF: 55232CJA06
ALPES-MARITIMES (06) €980,000 FAI
Nice. Stunning 4 bed unique Belle Epoque
villa with rare original frescos and mosaic
tiles. In very attractive part of the city.
Nice. Villa Belle Epoque de 4 chambres avec
fresques et mosaïques d'origine. Un bien
rare idéalement situé dans un ravissant
quartier.
REF: 59716API06
BOUCHES-DU-RHÔNE (13) € 1,365,000 FAI
Aix-en-Provence. Stunning architect-designed 4 bed detached house with amazing
double-height windows,
complete
with infinity pool.
Aix-en-Provence. Superbe maison d'architecte de 4 chambres avec de grandes
baies
vitrées et une piscine à débordement.
REF: 62813ASW13
BOUCHES-DU-RHÔNE (13) € 1,732,500 FAI
Simiane-Collongue. Architect-designed
4 bed villa with luxury designer kitchen,
swimming pool. Set in the countryside.
Simiane-Collongue. Villa d'architecte de 4
chambres avec une cuisine de grand luxe et
une piscine. Située dans un environnement
rural.
REF: 62324ASW13
DRÔME (26) €344,500 FAI
St Auban-sur-l'Ouvèze. 2 charming houses
with marvellous views amid lavender
fields. You could rent one and use the
other as your perfect holiday home.
St Auban-sur-l'Ouvèze. Deux ravissantes
maisons avec de très belles vues, entourées
de champs de lavande. Potentiel locatif.
REF:61314JBO26
DRÔME (26) €830,000 FAI
Piégon. Spacious 2 bed stone house with
swimming pool. 5 minutes from a lovely
Provençal village. Newly built with original
materials.
Piégon. Maison en pierres de 2 chambres avec piscine. A 5 min du joli village
provençal. Matériaux traditionnels.
REF: 56092JBO26
ARDÈCHE (07) €880,000 FAI
Malbosc. Magical old 5 bed Cévenol farmhouse in a wonderful
setting in the heart
of the Cévennes. 50 acres and swimming
pool. Ideal B&B.
Malbosc. Ancienne ferme cévenole dans un
magnifique cadre naturel. Idéale pour projet de chambres d'hôtes. 20 ha de terrain
et piscine.
REF: 62181ABE07