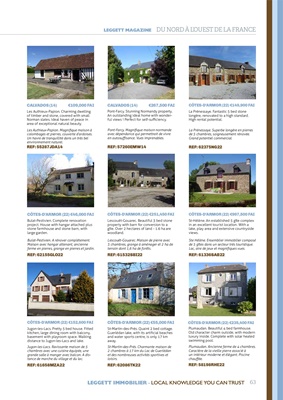 LEGGETT IMMOBILIER - LOCAL KNOWLEDGE YOU CAN TRUST 63
CALVADOS (14) €109,000 FAI
Les Authieux-Papion. Charming dwelling
of timber and stone, covered with small
Norman slates. Ideal haven of peace in
area of exceptional natural beauty.
Les Authieux-Papion. Magnifique maison à
colombages et pierres, couverte d'ardoises.
Un havre de tranquillité dans un très bel
environnement naturel.
REF: 55287JDA14
CALVADOS (14) €267,500 FAI
Pont-Farcy. Stunning Normandy property.
An outstanding ideal home with wonderful views
! Perfect for self-sufficiency.
Pont-Farcy. Magnifique maison normande
avec dépendance qui permettrait de vivre
en autosuffisance. Vues imprenables.
REF: 57260EMW14
CÔTES-D'ARMOR (22) €149,900 FAI
La Prénessaye. Fantastic 5 bed stone
longère, renovated to a high standard.
High rental potential.
La Prénessaye. Superbe longère en pierres
de 5 chambres, soigneusement rénovée.
Grand potentiel commercial.
REF: 62375NG22
CÔTES-D'ARMOR (22) €46,000 FAI
Bulat-Pestivien. Complete renovation
project. House with hangar attached plus
stone farmhouse and stone barn, with
large garden.
Bulat-Pestivien. A rénover complètement.
Maison avec hangar attenant, ancienne
ferme en pierres, grange en pierres et jardin.
REF: 62155GLO22
CÔTES-D'ARMOR (22) €251,450 FAI
Lescouët-Gouarec. Beautiful 3 bed stone
property with barn for conversion to a
gîte. Over 2 hectares of land - 1.6 ha are
woodland.
Lescouët-Gouarec. Maison de pierre avec
3 chambres, grange à aménager et 2 ha de
terrain dont 1,6 ha de forêts.
REF: 61532SBI22
CÔTES-D'ARMOR (22) €997,500 FAI
St-Hélène. An established 5 gîte complex
in an excellent tourist location. With a
lake, play area and extensive countryside
views.
Ste Hélène. Ensemblier immobilier composé
de 5 gîtes dans un secteur très touristique.
Lac, aire de jeux et magnifiques vues.
REF: 61336SAB22
CÔTES-D'ARMOR (22) €152,600 FAI
Jugon-les-Lacs. Pretty 5 bed house. Fitted
kitchen, large dining room with balcony,
basement with playroom space. Walking
distance to Jugon-les-Lacs and lake.
Jugon-les-Lacs. Ravissante maison de 5
chambres avec une cuisine équipée, une
grande salle à manger avec balcon. A distance
de marche du village et du lac.
REF: 61658MZA22
CÔTES-D'ARMOR (22) €55,000 FAI
St-Martin-des-Prés. Quaint 2 bed cottage.
Guerlédan lake, with its artificial beaches
and water sports centre, is only 17 km
away.
St-Martin-des-Prés. Charmante maison de
2 chambres à 17 km du Lac de Guerlédan
et des nombreuses activités sportives et
loisirs.
REF: 62086TK22
CÔTES-D'ARMOR (22) €235,400 FAI
Plumaudan. Beautiful 4 bed farmhouse.
Old character charm outside, with modern
luxury inside. Complete with solar heated
swimming pool.
Plumaudan. Ancienne ferme de 4 chambres.
Caractère de la vieille pierre associé à
un intérieur moderne et élégant. Piscine
chauffée.
REF: 58198RHE22
LEGGETT MAGAZINE DU NORD À L'OUEST DE LA FRANCE