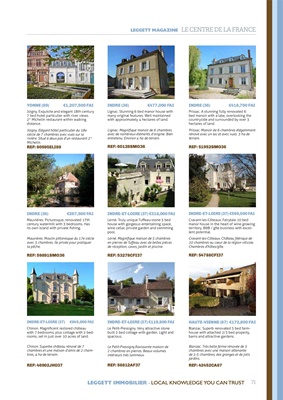 71
LEGGETT IMMOBILIER - LOCAL KNOWLEDGE YOU CAN TRUST
LEGGETT MAGAZINE LE CENTRE DE LA FRANCE
YONNE (89) €1,207,500 FAI
Joigny. Exquisite and elegant 18th century
7 bed hotel particulier with river views.
2* Michelin restaurant within walking
distance.
Joigny. Elégant hôtel particulier du 18e
siècle de 7 chambres avec vues sur la
rivière. Situé à deux pas d'un restaurant 2*
Michelin.
REF: 60595ELI89
INDRE (36) €477,000 FAI
Lignac. Stunning 6 bed manor house with
many original features. Well maintained
with approximately 4 hectares of land.
Lignac. Magnifique manoir de 6 chambres
avec de nombreux éléments d'origine. Bien
entretenu. Environ 4 ha de terrain.
REF: 60128SMO36
INDRE (36) €418,700 FAI
Prissac. A stunning fully renovated 6
bed manoir with a lake, overlooking the
countryside and surrounded by over 3
hectares of land.
Prissac. Manoir de 6 chambres élégamment
rénové avec un lac et avec vues. 3 ha de
terrain.
REF: 51952SMO36
INDRE (36) €267,500 FAI
Mauvières. Picturesque, renovated 17th
century watermill with 3 bedrooms. Has
its own island with private fishing.
Mauvières. Moulin pittoresque du 17e siècle
avec 3 chambres. Ile privée pour pratiquer
la pêche.
REF: 59891SMO36
INDRE-ET-LOIRE (37) €318,000 FAI
Lerné. Truly unique Tuffeau-stone 3 bed
house with gorgeous entertaining space,
wine cellar, private garden and swimming
pool.
Lerné. Magnifique maison de 3 chambres
en pierres de Tuffeau avec de belles pièces
de réception, caves, jardin et piscine.
REF: 53278CFI37
INDRE-ET-LOIRE (37) €599,500 FAI
Cravant-les-Côteaux. Fairytale 10 bed
manor house in the heart of wine growing
territory. B&B / gîte business with excellent potential.
Cravant-les-Côteaux. Château féérique de
10 chambres au cœur de la région viticole.
Chambres d'hôtes/gîte.
REF: 54788CFI37
INDRE-ET-LOIRE (37) €945,000 FAI
Chinon. Magnificent restored château
with 7 bedrooms, plus cottage with 2 bedrooms,
set in just over 10 acres of land.
Chinon. Superbe château rénové de 7
chambres et une maison d'amis de 2 chambres, 4 ha de terrain.
REF: 46902JHO37
INDRE-ET-LOIRE (37) €119,900 FAI
Le Petit-Pressigny. Very attractive stone
built 2 bed cottage with garden. Light and
spacious.
Le petit-pressigny.ravissante maison de
2 chambres en pierres. Beaux volumes
intérieurs très lumineux.
REF: 56812AF37
HAUTE-VIENNE (87) €172,800 FAI
Blanzac. Superb renovated 3 bed farmhouse with attached 2/3 bed property,
barns and attractive gardens.
Blanzac. Très belle ferme rénovée de 3
chambres avec une maison attenante
de 2-3 chambres, des granges et de jolis
jardins.
REF: 42452CA87