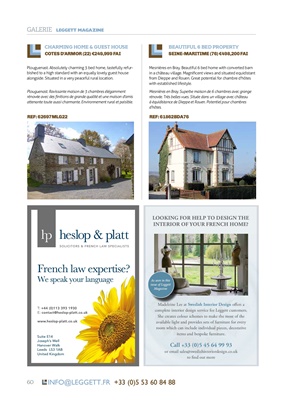 60
GALERIE LEGGETT MAGAZINE
info@leggett.frttp://leggett.fr" target="_blaninfo@leggett.fr leggett.fr">leggett.fr +33 (0)5 53 60 84 88
60 INFO@leggett.fr +33 (0)5 53 60 84 88
BEAUTIFUL 6 BED PROPERTY
SEINE-MARITIME (76) €498,200 FAI
REF: 61862BDA76
Mesnières en Bray. Beautiful 6 bed home with converted barn
in a château village. Magnificent views and situated equidistant
from Dieppe and Rouen. Great potential for chambre d'hôtes
with established lifestyle.
Mesnières en Bray. Superbe maison de 6 chambres avec grange
rénovée. Très belles vues. Située dans un village avec château
à équidistance de Dieppe et Rouen. Potentiel pour chambres
d'hôtes.
CHARMING HOME & GUEST HOUSE
COTES D'ARMOR (22) €249,999 FAI
Plouguenast. Absolutely charming 3 bed home, tastefully refurbished to a high standard
with an equally lovely guest house
alongside. Situated in a very peaceful rural location.
Plouguenast. Ravissante maison de 3 chambres élégamment
rénovée avec des finitions de grande qualité et une maison d'amis
attenante toute aussi charmante. Environnement rural et paisible.
REF: 62697MLG22
Suite E14
Joseph's Well
Hanover Walk
Leeds LS3 1AB
United Kingdom
LOOKING FOR HELP TO DESIGN THE
INTERIOR OF YOUR FRENCH HOME?
Madeleine Lee at Swedish Interior Design offers a
complete interior design service for Leggett customers.
She creates colour schemes to make the most of the
available light and provides sets of furniture for esales@swedishinteriordesign.co.uk individual pieces, decorative
items and bespoke furniture.
Call +33 (0)5 45 64 99 93
or email sales@swedishinteriordesign.co.uk
to find out more
As seen in this
issue of Leggett
Magazine