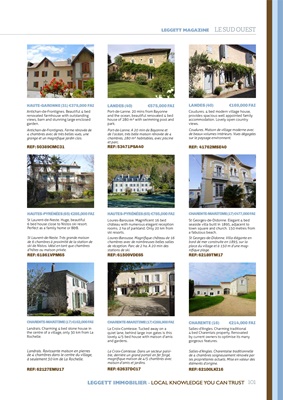 101
CHARENTE-MARITIME (17) €288,900 FAI
La Croix-Comtesse. Tucked away on a
quiet lane, behind large iron gates is this
lovely 4/5 bed house with maison d'amis
and gardens.
La Croix-Comtesse. Dans un secteur paisible, derrière un grand
portail en fer forgé,
magnifique maison de 4/5 chambres avec
maison d'amis et jardins.
REF: 62637DC17
HAUTE-GARONNE (31) €378,000 FAI
Antichan-de-Frontignes. Beautiful 4 bed
renovated farmhouse with outstanding
views, barn and stunning large enclosed
garden.
Antichan-de-Frontignes. Ferme rénovée de
4 chambres avec de très belles vues, une
grange et un magnifique jardin clos.
REF: 50389CMC31
LANDES (40) €575,000 FAI
Port-de-Lanne. 20 mins from Bayonne
and the ocean, beautiful renovated 4 bed
house of 280 m² with swimming pool and
park.
Port-de-Lanne. A 20 min de Bayonne et
de l'océan, très belle maison rénovée de 4
chambres, 280 m² habitables, avec piscine
et parc.
REF: 53471PSA40
LANDES (40) €169,000 FAI
Coudures. 4 bed modern village house,
provides spacious well appointed family
accommodation. Lovely open country
views.
Coudures. Maison de village moderne avec
de beaux volumes intérieurs. Vues dégagées
sur le paysage environnant.
REF: 41762MSE40
HAUTES-PYRÉNÉES (65) €285,000 FAI
St Laurent-de-Neste. Huge, beautiful
6 bed house close to Nistos ski resort.
Perfect as a family home or B&B.
St Laurent-de-Neste. Très grande maison
de 6 chambres à proximité de la station de
ski de Nistos. Idéal en tant que chambres
d'hôtes ou maison privée.
REF: 61861VPM65
HAUTES-PYRÉNÉES (65) €785,000 FAI
Loures-Barousse. Magnificent 16 bed
château with numerous elegant reception
rooms. 2 ha of parkland. Only 20 km from
ski resorts.
Loures-Barousse. Magnifique château de 16
chambres avec de nombreuses belles salles
de réception. Parc de 2 ha. A 20 min des
stations de ski.
REF: 61509VDE65
CHARENTE (16) €214,000 FAI
Salles-d'Angles. Charming traditional
4 bed Charentais property. Renovated
by current owners to optimise its many
gorgeous features.
Salles-d'Angles. Charentaise traditionnelle
de 4 chambres soigneusement rénovée par
les propriétaires actuels. Mise en valeur des
éléments d'origine.
REF: 62100LKI16
CHARENTE-MARITIME (17) €477,000 FAI
St Georges-de-Didonne. Elegant 4 bed
seaside villa built in 1895, adjacent to
town square and church. 150 metres from
a fabulous beach.
St Georges-de-Didonne. Villa élégante en
bord de mer construite en 1895, sur la
place du village et à 150 m d'une magnifique plage.
REF: 62189TM17
CHARENTE-MARITIME (17) €162,000 FAI
Landrais. Charming 4 bed stone house in
the centre of a village, only 30 km from La
Rochelle.
Landrais. Ravissante maison en pierres
de 4 chambres dans le centre du village,
à seulement 30 km de La Rochelle.
REF: 62127EMU17
LEGGETT IMMOBILIER - LOCAL KNOWLEDGE YOU CAN TRUST
LEGGETT MAGAZINE LE SUD OUEST