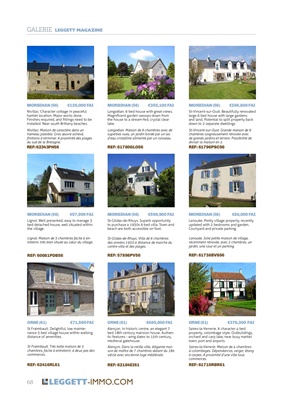 68
GALERIE LEGGETT MAGAZINE
MORBIHAN (56) €125,000 FAI
Nivillac. Character cottage in peaceful
hamlet location. Major works done.
Finishes required, and fittings need to be
installed. Near south Brittany beaches.
Nivillac. Maison de caractère dans un
hameau paisible. Gros œuvre achevé,
finitions à terminer. A proximité des plages
du sud de la Bretagne.
REF: 62343PH56
MORBIHAN (56) €355,100 FAI
Langoëlan. 6 bed house with great views.
Magnificent garden swoops down from
the house to a stream-fed, crystal clear
lake.
Langoëlan. Maison de 6 chambres avec de
superbes vues, un jardin bordé par un lac
d'eau cristalline alimenté par un ruisseau.
REF: 61780GLO56
MORBIHAN (56) €256,800 FAI
St-Vincent-sur-Oust. Beautifully renovated
large 6 bed house with large gardens
and land. Potential to split property back
down to 2 separate dwellings
St-Vincent-sur-Oust. Grande maison de 6
chambres soigneusement rénovée avec
de grands jardins et terrain. Possibilité de
diviser la maison en 2.
REF: 61796PSC56
MORBIHAN (56) €97,999 FAI
Lignol. Well presented, easy to manage 3
bed detached house, well situated within
the village.
Lignol. Maison de 3 chambres facile à entretenir,
très bien située au cœur du village.
REF: 60081PDB56
MORBIHAN (56) €599,900 FAI
St-Gildas-de-Rhuys. Superb opportunity
to purchase a 1930s 6 bed villa. Town and
beach are both accessible on foot.
St-Gildas-de-Rhuys. Villa de 6 chambres
des années 1930 à distance de marche du
centre-ville et des plages.
REF: 57898PV56
MORBIHAN (56) €88,000 FAI
Lanouée. Pretty village property, recently
updated with 2 bedrooms and garden.
Courtyard and private parking.
Lanouée. Jolie petite maison de village,
récemment rénovée, avec 2 chambres, un
jardin, une cour et un parking.
REF: 61738BVS56
ORNE (61) €71,500 FAI
St Fraimbault. Delightful, low maintenance
3 bed village house within walking
distance of amenities.
St Fraimbault. Très belle maison de 3
chambres, facile à entretenir, à deux pas des
commerces..
REF: 62416RL61
ORNE (61) €685,000 FAI
Alençon. In historic centre, an elegant 7
bed 18th century mansion house. Authentic features
- wing dates to 15th century,
medieval gatehouse.
Alençon. Dans la vieille ville, élégante maison de maître de 7 chambres datant
du 18e
siècle avec ancienne loge médiévale.
REF: 62184EI61
ORNE (61) €376,300 FAI
Saires-la-Verrerie. A character 4 bed
property, colombage style. Outbuildings,
orchard and carp lake, near busy market
town, port and airports.
Saires-la-Verrerie. Maison de 4 chambres
à colombages. Dépendances, verger, étang
à carpes. A proximité d'une ville tous
commerces.
REF: 61710RBR61