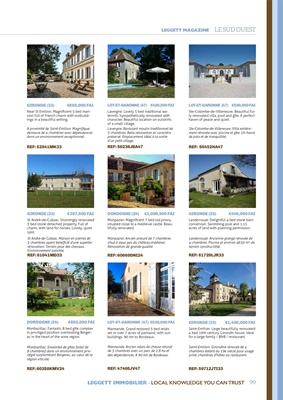 99
LOT-ET-GARONNE (47) €530,000 FAI
Marmande. Grand restored 3 bed relais
set in over 7 acres of parkland, with outbuildings. 90 km to Bordeaux.
Marmande. Ancien relais de chasse rénové
de 3 chambres avec un parc de 2,8 ha et
des dépendances. A 90 km de Bordeaux.
REF: 47465JV47
GIRONDE (33) €685,000 FAI
Near St Emilion. Magnificent 5 bed mansion full of
French charm with outbuildings in a beautiful setting.
A proximité de Saint-Emilion. Magnifique
demeure de 4 chambres avec dépendances
dans un environnement exceptionnel.
REF: 52841MK33
LOT-ET-GARONNE (47) €420,000 FAI
Lavergne. Lovely 5 bed traditional watermill. Sympathetically renovated
with
character. Beautiful location on outskirts
of a small village.
Lavergne. Ravissant moulin traditionnel de
5 chambres. Belle rénovation et caractère
préservé. Emplacement idéal à la sortie
d'un petit village.
REF: 56236JBA47
LOT-ET-GARONNE (47) €590,000 FAI
Ste-Colombe-de-Villeneuve. Beautiful fully renovated
villa, pool and gîte. A perfect
haven of peace and quiet.
Ste-Colombe-de-Villeneuve. Villa entièrement rénovée
avec piscine et gîte. Un havre
de paix et de tranquillité.
REF: 56452HA47
GIRONDE (33) €397,500 FAI
St André-de-Cubzac. Stunningly renovated
3 bed stone detached property. Full of
charm, with land for horses. Lovely, quiet
spot.
St André-de-Cubzac. Maison en pierres de
3 chambres ayant bénéficié d'une superbe
rénovation. Terrain pour des chevaux.
Environnement paisible.
REF: 61041MD33
DORDOGNE (24) €1,099,990 FAI
Monpazier. Magnificent 7 bed old priory,
situated close to a medieval castle. Beautifully renovated.
Monpazier. Ancien prieuré de 7 chambres
situé à deux pas du château médiéval.
Rénovation de grande qualité.
REF: 60669DNI24
GIRONDE (33) €1,400,000 FAI
Saint-Emilion. Large beautifully renovated
4 bed 19th century Girondin house. Ideal
for a large family / B&B / restaurant.
Saint-Emilion. Girondine rénovée de 4
chambres datant du 19e siècle pour usage
privé, chambres d'hôtes ou restaurant.
REF: 59712JTI33
GIRONDE (33) €440,000 FAI
Landerrouat. Delightful 4 bed stone barn
conversion. Swimming pool and 1.15
acres of land with planning permission.
Landerrouat. Ancienne grange rénovée de
4 chambres. Piscine et environ 4650 m² de
terrain constructible.
REF: 61729LJR33
DORDOGNE (24) €650,000 FAI
Monbazillac. Fantastic 8 bed gîte complex
in priviliged position overlooking Bergerac in the heart of
the wine region.
Monbazillac. Ensemble de gîtes (total de
8 chambres) dans un environnement privilégié surplombant Bergerac,
au cœur de la
région viticole.
REF: 60258KMV24
LEGGETT IMMOBILIER - LOCAL KNOWLEDGE YOU CAN TRUST
LEGGETT MAGAZINE LE SUD OUEST