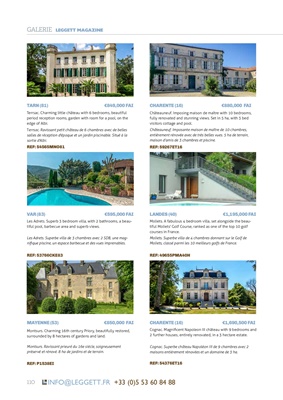 110
GALERIE LEGGETT MAGAZINE
TARN (81) €849,000 FAI
Terrsac. Charming little château with 6 bedrooms, beautiful
period reception rooms, garden with room for a pool, on the
edge of Albi.
Terrsac. Ravissant petit château de 6 chambres avec de belles
salles de réception d'époque et un jardin piscinable. Situé à la
sortie d'Albi.
REF: 54565MNO81
CHARENTE (16) €880,000 FAI
Châteauneuf. Imposing maison de maÎtre with 10 bedrooms,
fully renovated and stunning views. Set in 5 ha, with 3 bed
visitors cottage and pool.
Châteauneuf. Imposante maison de maître de 10 chambres,
entièrement rénovée avec de très belles vues. 5 ha de terrain,
maison d'amis de 3 chambres et piscine.
REF: 59267ET16
VAR (83) €595,000 FAI
Les Adrets. Superb 3 bedroom villa, with 2 bathrooms, a beautiful pool, barbecue area
and superb views.
Les Adrets. Superbe villa de 3 chambres avec 2 SDB, une magnifique piscine, un espace barbecue
et des vues imprenables.
REF: 53766CKE83
LANDES (40) €1,195,000 FAI
Moliets. A fabulous 4 bedroom villa, set alongside the beautiful Moliets' Golf Course,
ranked as one of the top 10 golf
courses in France.
Moliets. Superbe villa de 4 chambres donnant sur le Golf de
Moliets, classé parmi les 10 meilleurs golfs de France.
REF: 49655PMA40H
MAYENNE (53) €850,000 FAI
Montsurs. Charming 16th century Priory, beautifully restored,
surrounded by 8 hectares of gardens and land.
Montsurs. Ravissant prieuré du 16e siècle , s oigneusement
préservé et rénové. 8 ha de jardins et de terrain.
REF: P1538EI
CHARENTE (16) €1,690,500 FAI
Cognac. Magnificent Napoleon III château with 9 bedrooms and
2 further houses, entirely renovated, in a 3 hectare estate.
Cognac. Superbe château Napoléon III de 9 chambres avec 2
maisons entièrement rénovées et un domaine de 3 ha.
REF: 54376ET16
info@leggett.frttp://leggett.fr" target="_blank" title="Visit leggett.fr">leggett.fr +33 (0)5 53 60 84 88