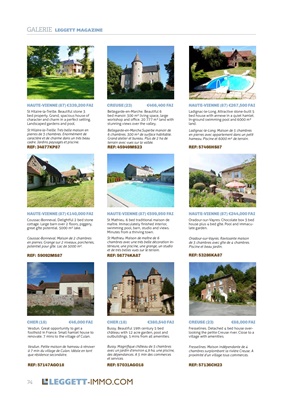 74
GALERIE LEGGETT MAGAZINE
HAUTE-VIENNE (87) €339,200 FAI
St Hilaire-la-Treille. Beautiful stone 3
bed property. Grand, spacious house of
character and charm in a perfect setting.
Landscaped gardens and pool.
St Hilaire-la-Treille. Très belle maison en
pierres de 3 chambres. Enormément de
caractère et de charme dans un très beau
cadre. Jardins paysagés et piscine.
REF: 34877KP87
CREUSE (23) €466,400 FAI
Bellegarde-en-Marche. Beautiful 6
bed manoir. 300 m² living space, large
workshop and office. 20 777 m² land with
stunning views over the valley.
bellegarde-en-marche.superbe manoir de
6 chambres. 300 m² de surface habitable.
Grand atelier et bureau. Plus de 2 ha de
terrain avec vues sur la vallée.
REF: 45949MS23
HAUTE-VIENNE (87) €267,500 FAI
Ladignac-le-Long. Attractive stone-built 5
bed house with annexe in a quiet hamlet.
In-ground swimming pool and 6000 m²
land.
Ladignac-le-Long. Maison de 5 chambres
en pierres avec appartement dans un petit
hameau. Piscine et 6000 m² de terrain.
REF: 57466HS87
HAUTE-VIENNE (87) €140,000 FAI
Coussac-Bonneval. Delightful 2 bed stone
cottage. Large barn over 2 floors, piggery,
great gîte potential. 5000 m² lake.
Coussac-Bonneval. Maison de 2 chambres
en pierres. Grange sur 2 niveaux, porcheries,
potentiel pour gîte. Lac de 5000 m².
REF: 59092MS87
HAUTE-VIENNE (87) €599,950 FAI
St Mathieu. 6 bed traditional maison de
maître. Immaculately finished interior,
swimming pool, barn, studio and views.
Minutes from a thriving town.
St Mathieu. Maison de maître de 6
chambres avec une très belle décoration intérieure, une piscine, une grange,
un studio
et de très belles vues sur le terrain.
REF: 56774KA87
HAUTE-VIENNE (87) €244,000 FAI
Oradour-sur-Vayres. Chocolate box 3 bed
house plus 4 bed gîte. Pool and immaculate garden.
Oradour-sur-Vayres. Ravissante maison
de 3 chambres avec gîte de 4 chambres.
Piscine et beau jardin.
REF: 53286KA87
CHER (18) €46,000 FAI
Vesdun. Great opportunity to get a
foothold in France. Small hamlet house to
renovate. 7 mins to the village of Culan.
Vesdun. Petite maison de hameau à rénover
à 7 min du village de Culan. Idéale en tant
que résidence secondaire.
REF: 57147AGO18
CHER (18) €380,540 FAI
Bussy. Beautiful 19th century 5 bed
château with 12 acre garden, pool and
outbuildings. 5 mins from all amenities.
Bussy. Magnifique château de 5 chambres
avec un jardin d'environ 4,9 ha, une piscine,
des dépendances. A 5 min des commerces
et services.
REF: 57031AGO18
CREUSE (23) €88,000 FAI
Fresselines. Detached 4 bed house overlooking the petite Creuse
river. Close to a
village with amenities.
Fresselines. Maison indépendante de 4
chambres surplombant la rivière Creuse. A
proximité d'un village tous commerces.
REF: 57136CH23