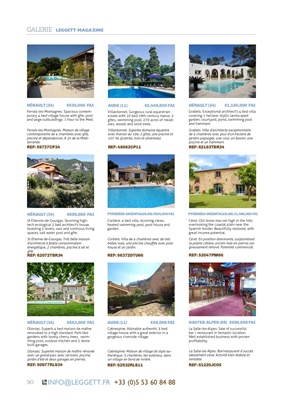 90
HÉRAULT (34) €535,000 FAI
Ferrals-les-Montagnes. Spacious contemporary
4 bed village house with gîte, pool
and large outbuildings. 1 hour to the Med.
Ferrals-les-Montagnes. Maison de village
contemporaine de 4 chambres avec gîte,
piscine et dépendances. A 1h de la Méditerranée.
REF: 59737CP34
PYRÉNÉES-ORIENTALES (66) €1,496,000 FAI
Céret. Old stone mas set high in the hills
overlooking the coastal plain near the
Spanish border. Beautifully restored, with
great income potential.
Céret. En position dominante, surplombant
la plaine côtière, ancien mas en pierres soigneusement rénové.
Potentiel commercial.
REF: 52047PM66
HÉRAULT (34) €1,150,000 FAI
Grabels. Exceptional architect's 4 bed villa
covering 1 hectare. Idyllic landscaped
garden, courtyard, pond, swimming pool
and hammam.
Grabels. Villa d'architecte exceptionnelle
de 4 chambres avec plus d'un hectare de
jardins paysagés, une cour, un bassin, une
piscine et un hammam.
REF: 62183TBR34
HÉRAULT (34) €699,000 FAI
St Etienne-de-Gourgas. Stunning hightech ecological
2 bed architect's house,
boasting 2 levels, vast and luminous living
spaces, salt water pool and gîte.
St Etienne-de-Gourgas. Très belle maison
d'architecte à faible consommation
énergétique, 2 chambres, piscine à sel et
gîte.
REF: 62072TBR34
PYRÉNÉES-ORIENTALES (66) €504,000 FAI
Corbère. 4 bed villa, stunning views,
heated swimming pool, pool house and
garden.
Corbère. Villa de 4 chambres avec de très
belles vues, une piscine chauffée avec pool
house et un jardin.
REF: 56372DTU66
AUDE (11) €2,449,650 FAI
Villardonnel. Gorgeous rural equestrian
estate with 10 bed 19th century manor, 2
gîtes, swimming pool, 270 acres of meadows,
woods and olive trees.
Villardonnel. Superbe domaine équestre
avec manoir du 19e, 2 gîtes, une piscine et
107 ha (prairies, bois et oliveraies).
REF: 48682CP11
HÉRAULT (34) €583,000 FAI
Olonzac. Superb 4 bed maison de maître
renovated to a high standard. Park-like
gardens with lovely cherry trees, swimming pool, outdoor kitchen and 2 stone
built garages.
Olonzac. Superbe maison de maître rénovée
avec un grand parc avec cerisiers, piscine,
jardin d'été et deux garages en pierres.
REF: 50677RLS34
AUDE (11) €88,000 FAI
Cabrespine. Adorable authentic 3 bed
village house with a great exterior in a
gorgeous riverside village.
Cabrespine. Maison de village de style authentique. 3 chambres, bel extérieur,
dans
un village en bord de rivière.
REF: 62532RLS11
HAUTES-ALPES (05) €890,000 FAI
La Salle-les-Alpes. Sale of successful
bar / restaurant in fantastic location.
Well established business with proven
profitability.
La Salle-les-Alpes. Bar/restaurant à succès
idéalement situé. Activité bien établie et
rentable.
REF: 61220JC05
GALERIE LEGGETT MAGAZINE
info@leggett.frttp://leggett.fr" target="_blank" title="Visit leggett.fr">leggett.fr +33 (0)5 53 60 84 88