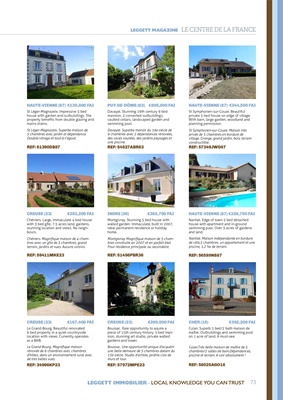 73
HAUTE-VIENNE (87) €130,800 FAI
St Léger-Magnazeix. Impressive 5 bed
house with garden and outbuildings. The
property benefits from double glazing and
mains drains.
St Léger-Magnazeix. Superbe maison de
5 chambres avec jardin et dépendance.
Double-vitrage et tout-à-l'égout.
REF: 61390DB87
PUY-DE-DÔME (63) €895,000 FAI
Davayat. Stunning 19th century 9 bed
mansion, 2 converted outbuildings,
vaulted cellars, landscaped garden and
swimming pool.
Davayat. Superbe manoir du 19e siècle de
9 chambres avec 2 dépendances rénovées,
des caves voutées, des jardins paysagés et
une piscine.
REF: 54527ABR63
HAUTE-VIENNE (87) €344,500 FAI
St Symphorien-sur-Couze. Beautiful
private 5 bed house on edge of village.
With barn, large garden, woodland and
planning permission.
St Symphorien-sur-Couze. Maison très
privée de 5 chambres en bordure de
village. Grange, grand jardin, bois, terrain
constructible.
REF: 57349JWO87
CREUSE (23) €392,200 FAI
Chéniers. Large, immaculate 4 bed house
with 3 bed gîte, 7.5 acres land, gardens,
stunning location and views. No neighbours.
Chéniers. Magnifique maison de 4 chambres avec un gîte de 3 chambres, grand
terrain, jardins et vues. Aucuns voisins
REF: 59411MKE23
INDRE (36) €365,700 FAI
Montgivray. Stunning 5 bed house with
walled garden. Immaculate, built in 2007,
ideal permanent residence or holiday
home.
Montgivray. Magnifique maison de 5 chambres construite en 2007 et en parfait
état.
Pour résidence principale ou secondaire.
REF: 51456PBR36
HAUTE-VIENNE (87) €229,750 FAI
Nantiat. Edge of town 5 bed detached
house with apartment and in-ground
swimming pool. Over 3 acres of gardens
and land.
Nantiat. Maison indépendante en bordure
de ville,5 chambres, un appartement et une
piscine, 1,2 ha de terrain.
REF: 56589NS87
CREUSE (23) €167,400 FAI
Le Grand-Bourg. Beautiful renovated
6 bed property in a quiet countryside
location with views. Currently operates
as a B&B.
Le Grand-Bourg. Magnifique maison
rénovée de 6 chambres avec chambres
d'hôtes, dans un environnement rural avec
de très belles vues.
REF: 34996KP23
CREUSE (23) €299,000 FAI
Boussac. Rare opportunity to aquire a
piece of 15th century history. 5 bed mansion, stunning art studio,
private walled
gardens and tower.
Boussac. Une opportunité unique d'acquérir
une belle demeure de 5 chambres datant du
15e siècle. Studio d'artiste, jardins clos de
murs et tour.
REF: 57972MPE23
CHER (18) €392,200 FAI
Culan. Superb 5 bed/2 bath maison de
maître. Outbuildings and swimming pool
on 1 acre of land. A must-see.
culan.très belle maison de maître de 5
chambres/2 salles de bain.Dépendances,
piscine et terrain. A voir absolument !
REF: 58025AGO18
LEGGETT IMMOBILIER - LOCAL KNOWLEDGE YOU CAN TRUST
LEGGETT MAGAZINE LE CENTRE DE LA FRANCE