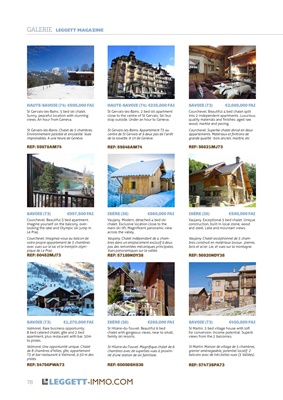 78
HAUTE-SAVOIE (74) €695,000 FAI
St Gervais-les-Bains. 5 bed ski chalet.
Sunny, peaceful location with stunning
views. An hour from Geneva.
St Gervais-les-Bains. Chalet de 5 chambres.
Environnement paisible et ensoleillé. Vues
imprenables. A une heure de Genève.
REF: 59878AM74
HAUTE-SAVOIE (74) €235,000 FAI
St Gervais-les-Bains. 2 bed ski apartment
close to the centre of St Gervais. Ski bus
stop outside. Under an hour to Geneva.
St Gervais-les-Bains. Appartement T3 au
centre de St Gervais et à deux pas de l'arrêt
de la navette. A 1h de Genève.
REF: 59848AM74
SAVOIE (73) €2,080,000 FAI
Courchevel. Beautiful 4 bed chalet split
into 2 independent apartments. Luxurious
quality materials and finishes: aged raw
wood, marble and paving.
Courchevel. Superbe chalet divisé en deux
appartements. Matériaux et finitions de
grande qualité : bois ancien, marbre, etc
REF: 56821MJ73
SAVOIE (73) €997,500 FAI
Courchevel. Beautiful 3 bed apartment.
Imagine yourself on the balcony, overlooking the lake
and Olympic ski jump in
Le Praz.
Courchevel. Imaginez-vous au balcon de
votre propre appartement de 3 chambres
avec vues sur le lac et le tremplin olympique de Le Praz.
REF: 60452MJ73
ISÈRE (38) €860,000 FAI
Vaujany. Modern, detached 4 bed ski
chalet. Exclusive location close to the
main ski lift. Magnificent panoramic view
across the valley.
Vaujany. Chalet indépendant de 4 chambres dans un emplacement exclusif à deux
pas des remontées mécaniques principales.
Vues panoramiques sur la vallée.
REF: 57189NDY38
ISÈRE (38) €590,000 FAI
Vaujany. Exceptional 5 bed chalet. Unique
construction, built in local stone, wood
and steel. Lake and mountain views.
Vaujany. Chalet exceptionnel de 5 chambres construit en matériaux locaux
: pierres,
bois et acier. Lac et vues sur la montagne.
REF: 56920NDY38
SAVOIE (73) €1,270,000 FAI
Valmorel. Rare business opportunity:
8 bed catered chalet, gîte and 2 bed
apartment, plus restaurant with bar. 50m
to pistes.
Valmorel. Une opportunité unique. Chalet
de 8 chambres d'hôtes, gîte, appartement
T3 et bar-restaurant à Valmorel, à 50 m des
pistes.
REF: 54756PWA73
ISÈRE (38) €288,000 FAI
St Hilaire-du-Touvet. Beautiful 6 bed
chalet with gorgeous views, near to small,
family ski resorts.
St Hilaire-du-Touvet. Magnifique chalet de 6
chambres avec de superbes vues à proximité d'une station
de ski familiale.
REF: 60056SHS38
SAVOIE (73) €450,000 FAI
St Martin. 5 bed village house with loft
for conversion. Income potential. Superb
views from the 2 balconies.
St Martin. Maison de village de 5 chambres,
grenier aménageable, potentiel locatif. 2
balcons avec de très belles vues (3 Vallées).
REF: 57473SPA73
GALERIE LEGGETT MAGAZINE