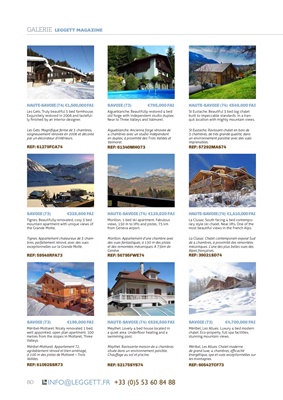 80
HAUTE-SAVOIE (74) €1,500,000 FAI
Les Gets. Truly beautiful 5 bed farmhouse.
Exquisitely restored in 2006 and tastefully finished by
an interior designer.
Les Gets. Magnifique ferme de 5 chambres,
soigneusement rénovée en 2006 et décorée
par un décorateur d'intérieurs.
REF: 61279FCA74
SAVOIE (73) €795,000 FAI
Aigueblanche. Beautifully restored 4 bed
old forge with independent studio duplex.
Near to Three Valleys and Valmorel.
Aigueblanche. Ancienne forge rénovée de
4 chambres avec un studio indépendant
en duplex, à proximité des Trois Vallées et
Valmorel.
REF: 61340MHO73
HAUTE-SAVOIE (74) €549,000 FAI
St Eustache. Beautiful 3 bed log chalet
built to impeccable standards. In a tranquil location with mighty mountain views.
St Eustache. Ravissant chalet en bois de
3 chambres, de très grande qualité, dans
un environnement paisible avec des vues
imprenables.
REF: 57292MAS74
SAVOIE (73) €328,600 FAI
Tignes. Beautifully renovated, cosy 3 bed
mountain apartment with unique views of
the Grande Motte.
Tignes. Appartement chaleureux de 3 chambres, parfaitement
rénové, avec des vues
exceptionnelles sur la Grande Motte.
REF: 59548RFA73
HAUTE-SAVOIE (74) €128,620 FAI
Morillon. 1 bed ski apartment. Fabulous
views, 150 m to lifts and pistes, 75 km
from Geneva airport.
Morillon. Appartement d'une chambre avec
des vues fantastiques, à 150 m des pistes
et des remontées mécaniques. A 75km de
Genève.
REF: 56795FWE74
HAUTE-SAVOIE (74) €1,410,000 FAI
La Clusaz. South facing 4 bed contemporary
style ski chalet. Near lifts. One of the
most beautiful views in the French Alps.
La Clusaz. Chalet contemporain exposé Sud
de 4 chambres, à proximité des remontées
mécaniques. L'une des plus belles vues des
Alpes françaises.
REF: 39021SD74
SAVOIE (73) €196,000 FAI
Méribel-Mottaret. Nicely renovated 1 bed,
well appointed, open plan apartment. 100
metres from the slopes in Mottaret, Three
Valleys.
Méribel-Mottaret. Appartement T2,
agréablement rénové et bien aménagé,
à 100 m des pistes de Mottaret - Trois
Vallées.
REF: 61092SSR73
HAUTE-SAVOIE (74) €628,580 FAI
Meythet. Lovely 4 bed house located in
a quiet area. Underfloor heating and a
swimming pool.
Meythet. Ravissante maison de 4 chambres
située dans un environnement paisible.
Chauffage au sol et piscine.
REF: 52175SYS74
SAVOIE (73) €4,700,000 FAI
Méribel, Les Allues. Luxury 4 bed modern
chalet. Eco-property, full spa facilities,
stunning mountain views.
Méribel, Les Allues. Chalet moderne
de grand luxe, 4 chambres, efficacité
énergétique, spa et vues exceptionnelles sur
les montagnes.
REF: 60542TCF73
GALERIE LEGGETT MAGAZINE
info@leggett.frttp://leggett.fr" target="_blank" title="Visit leggett.fr">leggett.fr +33 (0)5 53 60 84 88