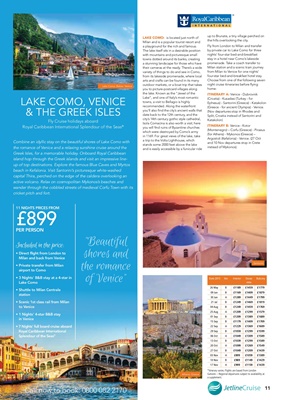 LAKE COMO, VENICE
& THE GREEK ISLES
Fly Cruise holidays aboard
Royal Caribbean International Splendour of the Seas®
Combine an idyllic stay on the beautiful shores of Lake Como with
the romance of Venice and a relaxing sunshine cruise around the
Greek Isles, for a memorable holiday. Onboard Royal Caribbean
island hop through the Greek islands and visit an impressive lineup of top destinations. Explore
the famous Blue Caves and Myrtos
beach in Kefalonia. Visit Santorini's picturesque white-washed
capital Thira, perched on the edge of the caldera overlooking an
active volcano. Relax on cosmopolitan Mykonos's beaches and
wander through the cobbled streets of medieval Corfu Town with its
cricket pitch and fort.
Included in the price:
• Direct flight from London to
Milan and back from Venice
• Private transfer from Milan
airport to Como
• 3 Nights' B&B stay at a 4-star in
Lake Como
• Shuttle to Milan Centrale
station
• Scenic 1st class rail from Milan
to Venice
• 1 Nights' 4-star B&B stay
in Venice
• 7 Nights' full board cruise aboard
Royal Caribbean international
Splendour of the Seas®
11 NIGHTS PRICES FROM
£899PER PERSON
LAKE COMO: is located just north of
Milan and is a popular tourist resort and
a playground for the rich and famous.
The lake itself sits in a desirable position
with mountains and picturesque small
towns dotted around its banks, creating
a stunning landscape for those who have
their cameras at the ready. There's a wide
variety of things to do and see in Como,
from its lakeside promenade, where local
arts and crafts can be found in its many
outdoor markets, or a boat trip that takes
you to picture-postcard villages along
the lake. Known as the "Jewel of the
Lake", and one of Italy's most romantic
towns, a visit to Bellagio is highly
recommended. Along the waterfront
you'll also find the city's ancient walls that
date back to the 12th century, and the
city's 14th century gothic style cathedral,
Isola Comacina is also worth a visit; here
you will find ruins of Byzantine churches
which were destroyed by Como's army
in 1169. For great views of the lake, take
a trip to the Volta Lighthouse, which
stands some 2000 feet above the lake
and is easily accessible by a funicular ride
Date 2015 Itin Interior Ocean
view
Balcony
26 May B £1189 £1459 £1779
09 Jun B £1169 £1409 £1879
30 Jun A £1289 £1449 £1799
21 Jul B £1249 £1469 £1819
04 Aug B £1249 £1459 £1769
25 Aug A £1209 £1299 £1579
01 Sep B £1209 £1389 £1689
15 Sep B £1179 £1409 £1709
22 Sep A £1229 £1369 £1689
29 Sep B £1059 £1299 £1599
06 Oct A £1049 £1309 £1589
13 Oct B £1039 £1299 £1589
20 Oct A £1099 £1269 £1549
27 Oct B £1049 £1209 £1439
03 Nov A £899 £1059 £1389
10 Nov B £989 £1149 £1429
17 Nov A £999 £1159 £1439
*Itinerary varies. Flights are based from London
Gatwick - Regional departures subject to availability at
a supplement.
up to Brunate, a tiny village perched on
the hills overlooking the city.
Fly from London to Milan and transfer
by private car to Lake Como for three
nights' four-star bed-and-breakfast
stay in a hotel near Como's lakeside
promenade. Take a coach transfer to
Milan station and a scenic train journey
from Milan to Venice for one nights'
four-star bed-and-breakfast hotel stay.
Choose from one of the following seven
night cruise itineraries before flying
home:
ITINERARY A: Venice - Dubrovnik
(Croatia) - Kusadasi (Turkey - for
Ephesus) - Santorini (Greece) - Katakolon
(Greece - for ancient Olympia) - Venice.
(Nov departures stop in Rhodes and
Split, Croatia instead of Santorini and
Katakolon)
ITINERARY B: Venice - Kotor
(Montenegro) - Corfu (Greece) - Piraeus
(for Athens) - Mykonos (Greece) -
Argostoli (Kefalonia) - Venice. (27 Oct
and 10 Nov departures stop in Crete
instead of Mykonos).
11
Call now to book: 0800 082 2170
"Beautiful
shores and
the romance
of Venice"
Lake Como. Below: Venice
Santorini
Athens, Greece