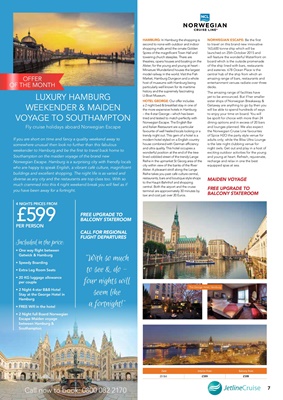 7
Call now to book: 0800 082 2170
LUXURY HAMBURG
WEEKENDER & MAIDEN
VOYAGE TO SOUTHAMPTON
Fly cruise holidays aboard Norwegian Escape
If you are short on time and fancy a quality weekend away to
somewhere unusual then look no further than this fabulous
weekender to Hamburg and be the first to travel back home to
Southampton on the maiden voyage of the brand new
Norwegian Escape. Hamburg is a surprising city with friendly locals
who are happy to speak English, a vibrant café culture, magnificent
buildings and excellent shopping. The night life is as varied and
diverse as any city and the restaurants are top class too. With so
much crammed into this 4 night weekend break you will feel as if
you have been away for a fortnight.
Included in the price:
• One way flight between
Gatwick & Hamburg
• Speedy Boarding
• Extra Leg Room Seats
• 20 KG luggage allowance
per couple
• 2 Night 4-star B&B Hotel
Stay at the George Hotel in
Hamburg
• FREE Wifi in the hotel
• 2 Night full Board Norwegian
Escape Maiden voyage
between Hamburg &
Southampton
4 NIGHTS PRICES FROM
£599PER PERSON
FREE UPGRADE TO
BALCONY STATEROOM
CALL FOR REGIONAL
FLIGHT DEPARTURES
HAMBURG: In Hamburg the shopping is
second to none with outdoor and indoor
shopping malls amid the ornate Golden
Spires of the magnificent Town Hall and
towering church steeples. There are
theatres, opera houses and boating on the
Alster; for the young and young at heart -
Miniature Wunderland houses the largest
model railway in the world. Visit the Fish
Market, Hamburg Dungeon and a whole
host of museums with Hamburg being
particularly well known for its maritime
history and the supremely fascinating
U-Boat Museum.
HOTEL GEORGE: Our offer includes
a 2 night bed & breakfast stay in one of
the more expensive hotels in Hamburg
- the 4-star George - which has been
tried and tested to match perfectly with
Norwegian Escape. The English Bar
and Italian Restaurant are a particular
favourite of well heeled locals looking or a
trendy night out. This gem of a hotel is a
modern hotel styled on a English country
house combined with German efficiency
and ultra quality. This hotel occupies a
wonderful position at the end of the tree
lined cobbled street of the trendy Lange
Reihe in the upmarket St Georg area of the
city within view of the banks of the River
Alster. A pleasant stroll along the Lange
Reihe takes you past café culture central,
restaurants, bars and boutique style shops
to the Haupt-Bahnhof and shopping
central. Both the airport and the cruise
terminal are approximately 30 minutes by
taxi and cost just over 20 Euros.
Date Interior From Balcony From
23 Oct £599 £599
NORWEGIAN ESCAPE: Be the first
to travel on this brand new innovative
163,600 tonne ship which will be
launched on 25th October 2015 and
will feature the wonderful Waterfront on
board which is the outside promenade
of the ship lined with bars, restaurants
and eateries. 678 Ocean Place is the
central hub of the ship from which an
amazing range of bars, restaurants and
entertainment venues radiate over three
decks.
The amazing range of facilities have
yet to be announced. But if her smaller
sister ships of Norwegian Breakaway &
Getaway are anything to go by then you
will be able to spend hundreds of ways
to enjoy your time on board. You will
be spoilt for choice with more than 24
dining options and in excess of 20 bars
and lounges planned. We also expect
the Norwegian Cruise Line favourites
of Spice H2O the party style venue for
adults only; while the Bliss Ultra Lounge
is the late night clubbing venue for
night owls. Get out and play in a host of
exciting outdoor activities for the young
and young at heart. Refresh, rejuvenate,
recharge and relax in one the best
equipped spas at sea.
MAIDEN VOYAGE
FREE UPGRADE TO
BALCONY STATEROOM
OFFER
OF THE MONTH
The George Hotel, Hamburg
"With so much
to see & do -
four nights will
seem like
a fortnight!"