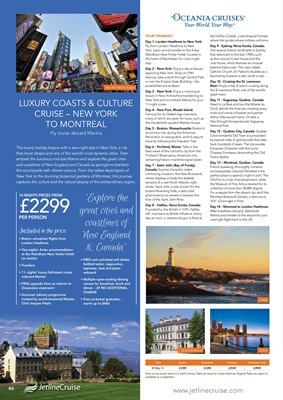 YOUR ITINERARY:
Day 1- London Heathrow to New York:
Fly from London Heathrow to New
York. Upon arrival transfer to the 4-star
Wyndham New Yorker Hotel, located in
the heart of Manhattan for a two-night
stay.
Day 2 - New York: Enjoy a day at leisure
exploring New York. Shop on Fifth
Avenue, take a stroll through Central Park
or visit the Empire State Building - the
possibilities are endless!
Day 3 - New York: Enjoy a morning at
leisure in New York before transferring to
New York port to embark Marina for your
11-night cruise.
Day 4 - New Port, Rhode island:
Famous for its Gilded Age mansions,
many of which are open for tours, such as
the Vanderbilt's opulent Marble House.
Day 5 - Boston, Massachusetts: Boston's
enormous role during the American
Revolution is inescapable, and it's easy to
trace by following the Freedom Trail.
Day 6 - Portland, Maine: Take in the
best views of this colourful city from the
Portland Observatory, America's only
remaining historic maritime signal tower.
Day 7 - saint John (Bay of Fundy),
Canada: Explore Canada's oldest
continuing museum, the New Brunswick,
where displays include the skeletal
remains of a rare North Atlantic right
whale. Saint John is also known for the
bizarre Reversing Falls, a daily tidal
phenomenon so severe it reverses the
flow of the Saint John River.
Day 8 - Halifax, Nova scotia, Canada:
Founded by the British in 1749, Halifax
still, maintains its British influence. Every
day at noon, a ceremonial gun is fired at
Date Interior Oceanview Balcony Penthouse Suite
05 May 15 £2299 £2299 £2599 £2999
Prices are per person based on 2 adults sharing. Flights are based on London Heathrow. Regional flights are subject to
availability at a supplement.
LUXURY COASTS & CULTURE
CRUISE - NEW YORK
TO MONTREAL
Fly cruise aboard Marina
This luxury holiday begins with a two-night stay in New York, a city
that never sleeps and one of the world's most dynamic cities. Then
embark the luxurious mid-size Marina and explore the great cities
and coastlines of New England and Canada as springtime blankets
the countryside with vibrant colours. From the tallest skyscrapers of
New York to the stunning botanical gardens of Montreal, this journey
captures the culture and the natural beauty of this extraordinary region.
the Halifax Citadel, a star-shaped fortress
where the guides where military uniforms.
Day 9 - sydney, Nova scotia, Canada:
Visit several historic landmarks in Sydney
that date back to the late 1700's, such
as the colonial Cossit House and the
Jost House, which features an unusual
beehive bake-oven. The city's oldest
Catholic Church, St. Patrick's doubles as a
fascinating museum is also worth a visit.
Day 10 - Cruising the st. Lawrence
River: Enjoy a day of scenic cruising along
the St Lawrence River, one of the world's
great rivers.
Day 11 - saguenay, Quebec, Canada:
Head to La Baie and tour the Musée du
Fjord, admire the frescoes covering every
nook and corner of barber and painter
Arthur Villeneuve's home. Or take a
hike through the spectacular Saguenay
National Park.
Day 12 - Quebec City, Canada: Quebec
City's wonderful Old Town is surrounded
by several miles of granite walls that date
back hundreds of years. The city exudes
European Character with the iconic
Chateau Frontenac dominating the Old
Towns skyline.
Day 13 - Montreal, Quebec, Canada:
French-speaking, thoroughly romantic
and exquisitely cultured, Montreal is the
perfect place to spend a night in port. The
Old Port is a hub of entertainment, while
the Museum of Fine Arts is revered for its
collection of more than 30,000 objects.
For a respite from the vibrant city, stroll the
Montreal Botanical Garden, a draw since
1931. (Overnight in Port)
Day 14 - Montreal to London Heathrow:
After breakfast onboard, disembark
Marina and transfer to the airport for your
overnight flight back to the UK.
Included in the price:
• Return scheduled flights from
London Heathrow
• two-nights' 4-star accommodation
at the Wyndham New Yorker Hotel
(or similar)
• transfers
• 11- nights' luxury full-board cruise
onboard Marina
• FREE upgrade from an interior to
Oceanview stateroom
• Gourmet culinary programme
created by world-renowned Master
Chef Jacques Pepin
14 NiGHts PRiCEs FROM
£2299PER PERsON
"Explore the
great cities and
coastlines of
New England
& Canada"
46
New York. Below: Quebec
Vanderbilt Mansion Boston
• FREE and unlimited soft drinks,
bottled water, cappuccino,
expresso, teas and juices
onboard
• Multiple open-seating dinning
venues for breakfast, lunch and
dinner - At NO ADDitiONAL
CHARGE
• Free on-board gratuities -
worth up to $440
Halifax