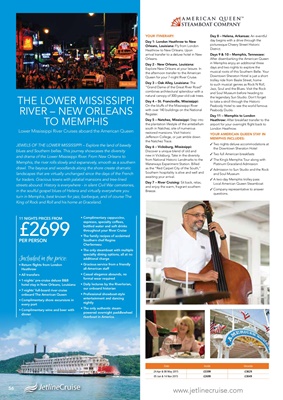 YOUR ITINERARY:
Day 1- London Heathrow to New
Orleans, Louisiana: Fly from London
Heathrow to New Orleans. Upon
arrival transfer to a deluxe hotel in New
Orleans.
Day 2 - New Orleans, Louisiana:
Explore New Orleans at your leisure. In
the afternoon transfer to the American
Queen for your 7-night River Cruise.
Day 3 - Oak Alley, Louisiana: The
"Grand Dame of the Great River Road"
combines architectural splendour with a
natural canopy of 300-year-old oak trees.
Day 4 - st. Francisville, Mississippi:
On the bluffs of the Mississippi River
with over 140 buildings on the National
Register.
Day 5 - Natchez, Mississippi: Step into
the plantation lifestyle of the antebellum
south in Natchez, site of numerous
restored mansions. Visit historic
Jefferson College, or just amble down
the Natchez Trace.
Day 6 - Vicksburg, Mississippi:
Discover a unique blend of old and
new in Vicksburg. Take in the diversity
from National Historic Landmarks to the
Waterways Experiment Station. Billed
as the "Red Carpet City of the South,"
Southern hospitality is alive and well and
awaiting your arrival.
Day 7 - River Cruising: Sit back, relax,
and enjoy the warm, fragrant southern
Breeze.
Date Inside Veranda
24 Apr & 08 May 2015 £3399 £3829
05 Jun & 14 Nov 2015 £2699 £3049
THE LOWER MISSISSIPPI
RIVER - NEW ORLEANS
TO MEMPHIS
Lower Mississippi River Cruises aboard the American Queen
JEWELS OF THE LOWER MISSISSIPPI - Explore the land of bawdy
blues and Southern belles. This journey showcases the diversity
and drama of the Lower Mississippi River. From New Orleans to
Memphis, the river rolls slowly and expansively, smooth as a southern
drawl. The bayous and woodlands along the shore create dramatic
landscapes that are virtually unchanged since the days of the French
fur traders. Gracious towns with palatial mansions and tree-lined
streets abound. History is everywhere - in silent Civil War cemeteries,
in the soulful gospel blues of Helena and virtually everywhere you
turn in Memphis, best known for jazz, barbeque, and of course The
King of Rock and Roll and his home at Graceland.
Day 8 - Helena, Arkansas: An eventful
day begins with a drive through the
picturesque Cheery Street Historic
District.
Days 9 & 10 - Memphis, tennessee:
After disembarking the American Queen
in Memphis enjoy an additional three
days and two nights to explore the
musical roots of this Southern Belle. Your
Downtown Sheraton Hotel is just a short
trolley ride from Beale Street, home
to such musical genres as Rock N Roll,
Jazz, Soul and the Blues. Visit the Rock
and Soul Museum before heading to
the legendary Sun Studio. Don't forget
to take a stroll through the Historic
Peabody Hotel to see the world famous
Peabody Ducks.
Day 11 - Memphis to London
Heathrow: After breakfast transfer to the
airport for your overnight flight back to
London Heathrow.
YOUR AMERICAN QUEEN STAY IN
MEMPHIS INCLUDES:
✓ Two nights deluxe accommodations at
the Downtown Sheraton Hotel
✓ Two full American breakfasts
✓ The King's Memphis Tour along with
Platinum Graceland Admission
✓ Admission to Sun Studio and the Rock
and Soul Museum
✓ A two-day Memphis trolley pass
Local American Queen Steamboat
✓ Company representative to answer
questions.
Included in the price:
• Return flights from London
Heathrow
• All transfers
• 1-nights' pre-cruise deluxe B&B
hotel stay in New Orleans, Louisiana
• 7-nights' full-board river cruise
onboard the American Queen
• Complimentary shore excursions in
every port
• Complimentary wine and beer with
dinner
11 NiGHts PRiCEs FROM
£2699PER PERsON
56
Beale Street
• Complimentary cappuccino,
espresso, specialty coffees,
bottled water and soft drinks
throughout your River Cruise
• the family recipes of acclaimed
southern chef Regina
Charboneau
• the only steamboat with multiple
specialty dining options, all at no
additional charge
• Gracious service from a friendly
all-American staff
• Casual elegance abounds, no
formal wear required
• Daily lectures by the Riverlorian,
our onboard historian
• Professional showboat-style
entertainment and dancing
nightly
• the only authentic steampowered
overnight paddlewheel
riverboat in America.