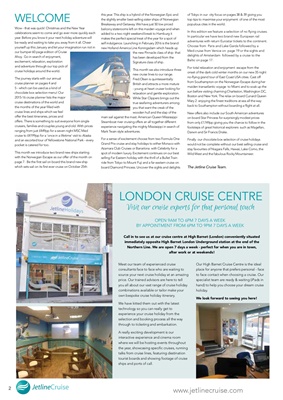 Call in to see us at our cruise centre at High Barnet (London) conveniently situated
immediately opposite High Barnet London Underground station at the end of the
Northern Line. We are open 7 days a week - perfect for when you are in town,
after work or at weekends!
Meet our team of experienced cruise
consultants face to face who are waiting to
source your next cruise holiday at an amazing
price. Our trained advisors are here to tell
you all about our vast range of cruise holiday
combinations available or tailor make your
own bespoke cruise holiday itinerary.
We have kitted them out with the latest
technology so you can really get to
experience your cruise holiday from the
selection and booking process all the way
through to ticketing and embarkation.
A really exciting development is our
interactive experience and cinema room
where we will be hosting events throughout
the year, showcasing specific cruises, running
talks from cruise lines, featuring destination
tourist boards and showing footage of cruise
ships and ports of call.
Our High Barnet Cruise Centre is the ideal
place for anyone that prefers personal - face
to face contact when choosing a cruise. Our
specialist team are ready & waiting (iPads in
hand) to help you choose your dream cruise
holiday.
We look forward to seeing you here!
OPEN 9AM TO 6PM 7 DAYS A WEEK
BY APPOINTMENT FROM 6PM TO 9PM 7 DAYS A WEEK
LONDON CRUISE CENTRE
Visit our cruise experts for that personal touch
WELCOME
Wow - that was quick! Christmas and the New Year
celebrations seem to come and go ever more quickly each
year. Before you know it your next holiday adventure will
be ready and waiting to take you away from it all. Cheer
yourself up this January and let your imagination run riot in
our bumper 60 page edition of Cruise
Ahoy. Go in search of enjoyment,
excitement, relaxation, exploration
and adventure through our top pick of
cruise holidays around the world.
The journey starts with our annual
cruise planner on pages 4 and
5 - which can be used as a kind of
chocolate box selection menu! Our
2015-16 cruise planner lists the major
cruise destinations of the world and
the months of the year filled with
cruise lines and ships which we feel
offer the best itineraries, prices and
offers. There is something to suit everyone from single
cruisers, families and couples young and old. With prices
ranging from just £449pp for a seven night MSC Med
cruise to £4199pp for a 'once in a lifetime' visit to Alaska
and an escorted tour of Yellowstone National Park - every
pocket is catered for too.
This month we introduce two brand new ships starting
with the Norwegian Escape as our offer of the month on
page 7. Be the first sail on board this brand new ship
which sets sail on its first ever cruise on October 25th
this year. This ship is a hybrid of the Norwegian Epic and
the slightly smaller best-selling sister ships of Norwegian
Breakaway and Getaway. We have just 50 low priced
balcony staterooms left on this maiden voyage and when
added to a two night weekend break to Hamburg it
makes the perfect special treat of the year for a spot of
self indulgence. Launching in February 2016 is the brand
new Holland America Line Koningsdam which heads up
the new Pinnacle class of ship that
has been developed from the
Signature class of ship.
This month we also introduce three
new cruise lines to our range.
fred.olsen is quintessentially
British and attracts a more mature
- young at heart cruiser looking for
relaxation and gentle exploration.
While Star Clippers brings out the
true seafaring adventurers among
you that want the creak of the
wooden hull and the slap of the
main sail against the mast. American Queen Mississippi
Steamboat river cruising offers an all together different
experience navigating the mighty Mississippi in search of
Mark Twain style adventures.
For a sense of excitement choose from two Formula One
Grand Prix cruise and stay holidays to either Monaco with
Azamara Club Cruises or Barcelona with Celebrity for a
spot of modern luxury. Excitement continues on our best
selling Far Eastern holiday with the thrill of a Bullet Train
ride from Tokyo to Mount Fuji and a far eastern cruise on
board Diamond Princess. Uncover the sights and delights
of Tokyo in our city focus on pages 38 & 39 giving you
top tips to maximise your enjoyment of one of the most
populous cites in the world.
In this edition we feature a selection of no flying cruises.
In particular we have two brand new European rail
adventures with return Eurostar tickets to the continent.
Choose from Paris and Lake Garda followed by a
Med cruise from Venice on page 19 or the sights and
delights of Amsterdam followed by a cruise to the
Baltic on page 17.
For total relaxation and enjoyment escape from the
onset of the dark cold winter months on our new 35 night
no-flying grand tour of East Coast USA cities. Cast off
from Southampton on the Norwegian Escape during her
maiden transatlantic voyage to Miami and to soak up the
sun before visiting charming Charleston, Washington DC,
Boston and New York. The relax on board Cunard Queen
Mary 2 enjoying the finest traditions at sea all the way
back to Southampton without boarding a flight at all.
New offers also include our South American adventures
on board Star Princess for surprisingly modest prices
from only £1749pp giving you the chance to follow in the
footsteps of great historical explorers such as Magellan,
Darwin and Sir Francis Drake.
Finally our chocolate box selection of cruise holidays
would not be complete without our best selling cruise and
stay favourites of Niagara Falls, Hawaii, Lake Como, the
Wild West and the fabulous Rocky Mountaineer.
The Jetline Cruise Team.
2