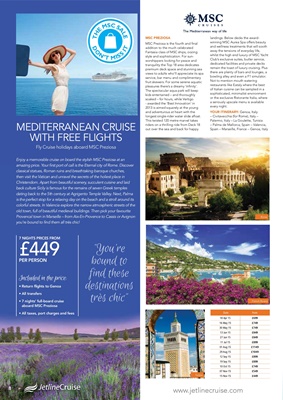 MSC PREZIOSA
MSC Preziosa is the fourth and final
addition to the much celebrated
Fantasia class of MSC ships, oozing
style and sophistication. For sunworshippers looking for peace and
tranquility the Top 18 area dedicates
premium deck space and stunning sea
views to adults who'll appreciate its spa
service, bar menu and complimentary
fruit skewers. For some serene aquatic
pleasures there's a dreamy 'infinity'.
The spectacular aqua park will keep
kids entertained - and thoroughly
soaked - for hours, while Vertigo
- awarded the 'Best Innovation' in
2013 is aimed squarely at the young
and adventurous at heart with the
longest single-rider water slide afloat.
This twisted 120 metre marvel takes
riders on a thrilling ride from Deck 18
out over the sea and back for happy
Date From
18 Apr 15 £699
16 May 15 £749
30 May 15 £749
13 Jun 15 £849
27 Jun 15 £849
11 Jul 15 £899
01 Aug 15 £1149
29 Aug 15 £1049
12 Sep 15 £899
19 Sep 15 £899
10 Oct 15 £749
07 Nov 15 £549
15 Nov 15 £449
MEDITERRANEAN CRUISE
WITH FREE FLIGHTS
Fly Cruise holidays aboard MSC Preziosa
Enjoy a memorable cruise on board the stylish MSC Preziosa at an
amazing price. Your first port of call is the Eternal city of Rome. Discover
classical statues, Roman ruins and breathtaking baroque churches,
then visit the Vatican and unravel the secrets of the holiest place in
Christendom. Apart from beautiful scenery, succulent cuisine and laid
back culture Sicily is famous for the remains of seven Greek temples
dating back to the 5th century at Agrigento Temple Valley. Next, Palma
is the perfect stop for a relaxing day on the beach and a stroll around its
colorful streets. In Valencia explore the narrow atmospheric streets of the
old town, full of beautiful medieval buildings. Then pick your favourite
Provencal town in Marseille - from Aix-En-Provence to Cassis or Avignon
you're bound to find them all très chic!
landings. Below decks the awardwinning
MSC Aurea Spa offers beauty
and wellness treatments that will sooth
away the tensions of everyday life,
whilst the high end luxury of MSC Yacht
Club's exclusive suites, butler service,
dedicated facilities and private decks
remain the toast of luxury cruising. Plus
there are plenty of bars and lounges, a
bowling alley and even a F1 simulator.
Not to mention mouth watering
restaurants like Eataly where the best
of Italian cuisine can be sampled in a
sophisticated, minimalist environment
or the exclusive Ristorante Italia, where
a seriously upscale menu is available
every night.
YOUR ITINERARY: Genoa, Italy
- Civitavecchia (for Rome), Italy -
Palermo, Italy - La Goulette, Tunisia
- Palma de Mallorca, Spain - Valencia,
Spain - Marseille, France - Genoa, Italy
Included in the price:
• Return flights to Genoa
• All transfers
• 7 nights' full-board cruise
aboard MSC Preziosa
• All taxes, port charges and fees
7 NIGHTS PRICES FROM
£449PER PERSON
"You're
bound to
find these
destinations
très chic"
8
Tunisia
French Riviera
Rome
THE MSC SALE
DON'T MISS IT