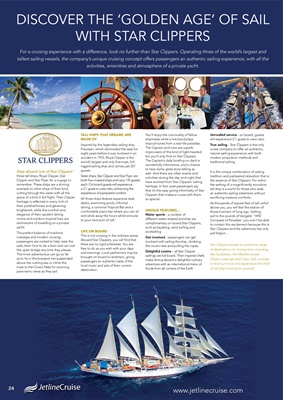 24 DISCOVER THE 'GOLDEN AGE' OF SAIL
WITH STAR CLIPPERS
For a cruising experience with a difference, look no further than Star Clippers. Operating three of the world's largest and
tallest sailing vessels, the company's unique cruising concept offers passengers an authentic sailing experience, with all the
activities, amenities and atmosphere of a private yacht.
Step aboard one of Star Clippers'
three tall ships, Royal Clipper, Star
Clipper and Star Flyer, for a voyage to
remember. These ships are a shining
example to other ships of their kind,
cutting through the water with all the
grace of a bird in full flight. Their Clipper
heritage is reflected in every inch of
their polished brass and gleaming
brightwork, while the comfort and
elegance of their opulent dining
rooms and outdoor tropical bars are
reminiscent of travelling on a private
yacht.
The perfect balance of maritime
nostalgia and modern cruising,
passengers are invited to help raise the
sails, learn how to tie a knot and can visit
the open bridge any time they please.
The more adventurous can go so far
as to lie in the bowsprit net suspended
above the rushing sea or climb the
mast to the Crow's Nest for stunning
panoramic views as they sail.
TALL SHIPS THAT DREAMS ARE
MADE OF
Inspired by the legendary sailing ship
Preussen, which dominated the seas for
eight years before it was involved in an
accident in 1910, Royal Clipper is the
world's largest and only five-mast, fullrigged sailing ship and carries just 227
guests.
Sister ships, Star Clipper and Star Flyer, are
both four-masted ships and carry 170 guests
each. On board guests will experience
a 2:1 guest to crew ratio, enhancing the
experience of pampered comfort.
All three ships feature expansive teak
decks, swimming pools, informal
dining, a convivial Tropical Bar and a
comfortable piano bar where you can sit
and while away the hours whilst enroute
to your next port of call.
LIFE ON BOARD
This is not cruising in the ordinary sense.
Aboard Star Clippers, you will find that
there are no rigid schedules. You are
free to do as you wish with your days
and evenings. Local performers may be
brought on board to entertain, giving
passengers an authentic taste of the
local music and arts of their current
destination.
You'll enjoy the conviviality of fellow
shipmates while a live band plays
tropical tunes from a real-life paradise.
The Captain and crew are superb
improvisers of the kind of light-hearted
fun you'll only find on Star Clippers.
The Captain's daily briefing on deck is
wonderfully informative, and a chance
to hear some great story-telling as
well. And there are other events and
activities during the day and night that
have evolved from Star Clippers' sailing
heritage. In fact, past passengers say
that it's the easy-going informality of Star
Clippers that makes a cruise with them
so special.
UNIQUE FEATURES…
Water sports - a number of
different water-related activities are
complimentary on board Star Clippers,
such as kayaking, wind surfing and
snorkelling
Get involved - passengers can get
involved with sailing the ship, climbing
the crow's nest and pulling the ropes
Delightful cuisine - all Star Clipper
sailings are full board. Their inspired chefs
make dining aboard a delightful culinary
adventure with an international menu of
foods from all corners of the Earth
Unrivalled service - on board, guests
will experience 2:1 guest to crew ratio
true sailing - Star Clippers is the only
cruise company to offer an authentic,
natural sailing experience with both
modern propulsion methods and
traditional sailing
It is the unique combination of sailing
tradition and pampered relaxation that is
the essence of Star Clippers. For within
the setting of a magnificently evocative
tall ship is a world for those who seek
an authentic sailing adventure without
sacrificing creature comforts.
As thousands of square feet of sail unfurl
above you, you will feel the elation of
those mariners of long ago. Setting
sail to the sounds of Vangelis' '1492
Conquest of Paradise', you won't be able
to contain this excitement because this is
Star Clippers and the adventure has only
just begun…
Star Clippers boasts an extensive range
of destinations to choose from including
the Caribbean, the Mediterranean,
Ocean crossings and Cuba. Call us today
to find out more and experience the thrill
of tall ship cruising for yourself.