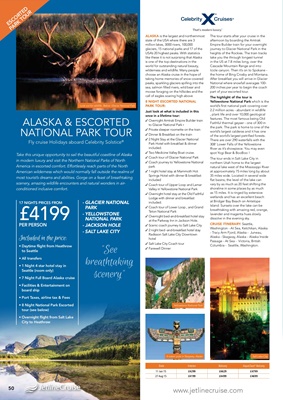 ALASKA is the largest and northernmost
state of the USA where there are 3
million lakes, 3000 rivers, 100,000
glaciers, 15 national parks and 17 of the
USA's 20 highest peaks. With statistics
like these it is not surprising that Alaska
is one of the top destinations in the
world for outstanding natural beauty,
wilderness and wildlife. Many people
choose an Alaska cruise in the hope of
taking home memories of snow covered
peaks, sparkling glaciers spilling into the
sea, salmon filled rivers, wild bear and
moose foraging on the hillsides and the
call of eagles soaring high above
8 NIGHT ESCORTED NATIONAL
PARK TOUR:
Just look at what is included in this
once in a lifetime tour:
✓ Overnight Amtrak Empire Builder train
to Glacier National Park r
✓ Private sleeper roomette on the train
✓ Dinner & Breakfast on the train
✓ 2 Night Stay at the Glacier National
Park Hotel with breakfast & dinner
included.
✓ Two Medicine Valley Boat cruise.
✓ Coach tour of Glacier National Park
✓ Coach journey to Yellowstone National
park
✓ 1 night hotel stay at Mammoth Hot
Springs Hotel with dinner & breakfast
included
✓ Coach tour of Upper Loop and Lamar
Valley in Yellowstone National Park
✓ Overnight hotel stay at the Old Faithful
Lodge with dinner and breakfast
included.
✓ Coach tour of Lower Loop , and Grand
Teton National Park
✓ Overnight bed-and-breakfast hotel stay
at the Parkway Inn in Jackson Hole.
✓ Scenic coach journey to Salt Lake City
✓ 2 night bed -and-breakfast hotel stay
Radisson Salt Lake City Downtown
hotel
✓ Salt Lake City Coach tour
✓ Farewell Dinner www.jetlinecruise.com
Date Interior Balcony AquaClass® Balcony
11 Jun 15 £4299 £4629 £4799
27 Aug 15 £4199 £4499 £4699
ALASKA & ESCORTED
NATIONAL PARK TOUR
Fly cruise Holidays aboard Celebrity Solstice®
Take this unique opportunity to sail the beautiful coastline of Alaska
in modern luxury and visit the Northern National Parks of North
America in escorted comfort. Effortlessly reach parts of the North
American wilderness which would normally fall outside the realms of
most tourist's dreams and abilities. Gorge on a feast of breathtaking
scenery, amazing wildlife encounters and natural wonders in airconditioned inclusive comfort.
The tour starts after your cruise in the
afternoon by boarding the Amtrak
Empire Builder train for your overnight
journey to Glacier National Park in the
heights of the Rockies. The train tracks
take you the through longest tunnel
in the US at 7.8 miles long, over the
Cascade Mountain Range and into
Icicle canyon. Then it's on to Spokane -
the home of Bing Crosby and Montana.
After breakfast you will arrive in Glacier
National where snowfall averages 100-
200 inches per year to begin the coach
part of your escorted tour.
the highlight of the tour is
Yellowstone National Park which is the
world's first national park covering over
2.2 million acres - abundant in wildlife
, plant life and over 10,000 geological
features. The most famous being Old
Faithful thermal geyser - one of 300 in
the park. The park is home to one of the
world's largest calderas and it has one
of the world's largest petrified forests.
There are over 290 waterfalls with the
308' Lower Falls of the Yellowstone
River as it's showpiece. You may even
spot Yogi Bear & BooBoo !
The tour ends in Salt Lake City in
northern Utah home to the largest
natural lake west of the Mississippi River
at approximately 75 miles long by about
35 miles wide. Located in several wide
flat basins; the level of the lake can
vary by as much as 20 feet shifting the
shoreline in some places by as much
as 15 miles. It is ringed by extensive
wetlands and has an excellent beach
at Bridger Bay Beach on Antelope
Island. Sunsets over the lake can be
breathtaking with amazing red, orange,
lavender and magenta hues slowly
dissolve in the evening sky.
CRUISE ITINERARY: Seattle,
Washington - At Sea, Ketchikan, Alaska
- Tracy Arm Fjord, Alaska - Juneau,
Alaska - Skagway, Alaska - Alaska Inside
Passage - At Sea - Victoria, British
Columbia - Seattle, Washington.
Included in the price:
• Daytime flight from Heathrow
to seattle
• All transfers
• 1 Night 4 star hotel stay in
seattle (room only)
• 7 Night Full Board Alaska cruise
• Facilities & Entertainment on
board ship
• Port taxes, airline tax & Fees
• 8 Night National Park Escorted
tour (see below)
• Overnight flight from salt Lake
City to Heathrow
17 NiGHts PRiCEs FROM
£4199PER PERsON
- GLACIER NATIONAL
PARK
- YELLOWSTONE
NATIONAL PARK
- JACKSON HOLE
- SALT LAKE CITY
50
Look out for wildlife. Below: Glacier National Park
A totem pole in Skagway, Alaska Salt Lake City
EsCORtED
PARK tOUR
Yellowstone National Park
"See
breathtaking
scenery"