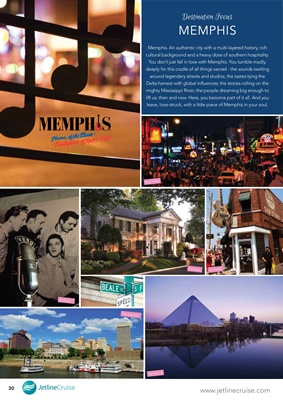 Destination Focus
MEMPHIS
Memphis. An authentic city with a multi-layered history, rich
cultural background and a heavy dose of southern hospitality.
You don't just fall in love with Memphis. You tumble madly,
deeply for this cradle of all things sacred - the sounds swirling
around legendary streets and studios; the tastes tying the
Delta harvest with global influences; the stories rolling on the
mighty Mississippi River; the people dreaming big enough to
lift us, then and now. Here, you become part of it all. And you
leave, love-struck, with a little piece of Memphis in your soul.
30
Beale Street
Graceland Sun Studio
The Pyramid
The waterfront
Sun Studio
SM
SM