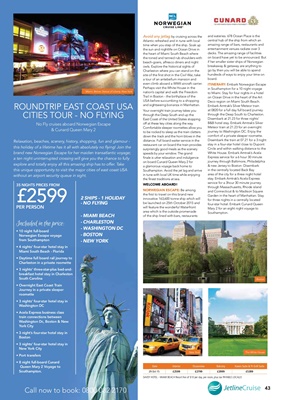 ROUNDTRIP EAST COAST USA
CITIES TOUR - NO FLYING
No Fly cruises aboard Norwegian Escape
& Cunard Queen Mary 2
Relaxation, beaches, scenery, history, shopping, fun and glamour -
this holiday of a lifetime has it all with absolutely no flying! Join the
brand new Norwegian Escape for her maiden transatlantic voyage;
a ten night uninterrupted crossing will give you the chance to fully
explore and totally enjoy all this amazing ship has to offer. Take
this unique opportunity to visit the major cities of east coast USA
without an airport security queue in sight.
Included in the price:
• 10 night full-board
Norwegian Escape voyage
from southampton
• 4 nights' four-star hotel stay in
Miami south Beach - Florida
• Daytime full board rail journey to
Charleston in a private roomette
• 3 nights' three-star-plus bed-andbreakfast
hotel stay in Charleston
south Carolina
• Overnight East Coast train
Journey in a private sleeper
roomette
• 3 nights' four-star hotel stay in
Washington DC
• Acela Express business class
train connections between
Washington Dc, Boston & New
York City
• 3 night's four-star hotel stay in
Boston
• 3 nights' four-star hotel stay in
New York City
• Port transfers
• 8 night full-board Cunard
Queen Mary 2 Voyage to
southampton.
35 NiGHts PRiCEs FROM
£2599PER PERsON
2 SHIPS - 1 HOLIDAY
- NO FLYING
- MIAMI BEACH
- CHARLESTON
- WASHINGTON DC
- BOSTON
- NEW YORK
Avoid any jetlag by cruising across the
Atlantic refreshed and in tune with local
time when you step of the ship. Soak up
the sun and nightlife on Ocean Drive in
the heart of Miami South Beach where
the toned and tanned rub shoulders with
beach-goers, alfresco diners and night
owls. Explore the historical sights of
Charleston where you can stand on the
site of the first shot in the Civil War, take
a tour of an antebellum mansion and
even climb aboard a WWII aircraft carrier.
Perhaps visit the White House in the
nation's capital and walk the Freedom
Trail in Boston - the birthplace of the
USA before succumbing to a shopping
and sightseeing bonanza in Manhattan.
Your overnight train journey takes you
through the Deep South and up the
East Coast of the United States stopping
off at these key cities along the way.
Comfortable sleeper roomettes allow you
to be rocked to sleep as the train clatters
down the track and the horn blows in the
distance. Full board waiter service in the
restaurant car on board the train provides
surprisingly good meals as the scenery
speeds by your window. The grand
finale is utter relaxation and indulgence
on board Cunard Queen Mary 2 for
a glamorous voyage back home to
Southampton. Avoid the jet lag and arrive
in tune with local UK time while enjoying
the finest traditions at sea.
WELCOME ABOARD!
NORWEGIAN ESCAPE: Be among
the first to travel on this brand new
innovative 163,600 tonne ship which will
be launched on 25th October 2015 and
will feature the wonderful Waterfront
area which is the outside promenade
of the ship lined with bars, restaurants
Date Interior Oceanview Balcony Haven Suite & Pr Grill Suite
29 Oct 15 £2599 £2799 £2999 £5399
SAVOY HOTEL - MIAMI BEACH Resort Fee of $10 per day, per room, plus tax PAYABLE LOCALLY.
and eateries. 678 Ocean Place is the
central hub of the ship from which an
amazing range of bars, restaurants and
entertainment venues radiate over 3
decks. The amazing range of facilities
on board have yet to be announced. But
if her smaller sister ships of Norwegian
breakaway & getaway are anything to
go by then you will be able to spend
hundreds of ways to enjoy your time on
board.
ITINERARY: Embark Norwegian Escape
in Southampton for a 10 night voyage
to Miami. Stay for four nights in a hotel
on Ocean Drive in the heart of the Art
Deco region on Miami South Beach.
Embark Amtrak's Silver Meteor train
at 0820 for a full day full board journey
through the Deep South to Charleston.
Disembark at 21.23 for three nights'
B&B hotel stay. Embark Amtrak's Silver
Meteor train at 21.23 for an overnight
journey to Washington DC. Enjoy the
comfort of a private sleeper roomette.
Disembark the train at 07.21 for a 3 night
stay in a four-star hotel close to Dupont
Circle and within walking distance to the
White House. Embark Amtrak's Acela
Express service for a 6 hour 30 minute
journey through Baltimore, Philadelphia
& new Jersey to Boston. Disembark
in the centrally located Back Bay
area of the city for a three night hotel
stay. Embark Amtrak's Acela Express
service for a 3hour 30 minute journey
through Massachusetts, Rhode island
and Connecticut & to Madison Square
Garden in the heart of Manhattan. Stay
for three nights in a centrally located
four-star hotel. Embark Cunard Queen
Mary 2 for an eight night voyage to
Southampton.
Miami. Below: Statue of Liberty, New York
New York The White House
Boston 43
Call now to book: 0800 082 2170